Massive storms and at least two tornadoes, including one "large and extremely dangerous tornado," tore through the Chicago area late Sunday night, according to the National Weather Service, leaving a path of damage and destruction in its wake.
Here are the latest updates from across the region:
Ring Camera Captures Video of Tornado in Naperville
A Naperville resident's surveillance camera captured the terrifying moment a tornado tore through the community on Sunday, leaving a path of damage and destruction in its wake.
Steve Siannas' Ring camera caught several minutes of the severe weather from multiple angles, which can be watched live in the video player above.
Video of his back patio shows heavy rain as winds whip the cover off his grill and knock down his basketball hoop, dragging it and the outdoor furniture several feet as several items are whipped around in the tornado's fierce gusts.
Insurance Experts Offer Tips for Homeowners to Follow After Natural Disasters
After a series of tornadoes ripped through the Chicago area on Sunday, insurance experts are offering homeowners tips on how to get on the road to recovery after undergoing property damage or destruction during the storms.
In a press release, the American Property Casualty Insurance Association recommends that homeowners contact their insurers or insurance agents as soon as possible if their home suffered damage during the Sunday storms, which spawned multiple tornadoes in several suburban communities. Read more here.
6:30 p.m.: Remarkable Stories of Survival Emerge After Tornado Hits Woodridge
5:33 p.m. National Weather Service Confirms Second Tornado
A National Weather Service storm survey confirmed an EF-0 tornado touched down near the intersection of Illinois routes 59 and 126, just north of downtown Plainfield. According to the NWS, the tornado's damage continued on a 3.2-mile path traveling east-southeast with minor to moderate tree damage into southwest Romeoville.
5:02 p.m. Recap of Woodridge Numbers
The village of Woodridge sent out the following details following Sunday's tornado: Sirens sounded at 10:48 p.m., and the tornado touched down at 11:10 p.m. in Woodridge, coming from the west near Route 53 and traveling about 3 miles total.
According to the village, the Woodridge Police Department's current mission is to "make sure the streets are safe, help loved ones reunite, and facilitate assistance with Public Works and ComEd to remove downed power lines."
The Red Cross is establishing a shelter at Thomas Jefferson Junior High School at 7200 Janes Ave. Call the Red Cross for assistance at 877-597-0747.
For information on how to help clean up in Woodridge and assist those impacted by the tornado can get more info here.
5 p.m. Latest Naperville Updates
City of Naperville officials said residents near the path of the tornado "can expect brief, rolling electrical outages as electric crews work to restore service to the 300 customers who remain without power."
The removal of tree debris is expected to take two more days, city officials said. "City inspectors will continue conduct damage assessments in the coming days," according to the city.
Those who want to volunteer to help with relief/clean-up efforts should contact the Community Services Department at (630) 305-5300 or email portnerd@naperville.il.us to be placed on the list.
4:08 p.m. Tornado That Hit Naperville, Other Suburbs May Have Packed 140 MPH Wind Speeds: NWS
Based on an initial damage assessment of the tornado that touched down in suburban Naperville on Sunday night, the National Weather Service estimates that the twister was an EF-3 on the Enhanced Fujita Scale, packing wind speeds of nearly 140 miles per hour.
The NWS conducted a damage survey of the area on Monday morning after the tornado struck the area. According to the service, the tornado touched down near Naperville just after 11 p.m. Sunday and ended near Willow Springs.
The team has surveyed damage in Naperville and Woodridge, and will work its way through Darien, Burr Ridge and Willow Springs in coming days.
More info on the tornado here.
3:25 p.m. How to Help
A wide variety of organizations and companies are offering services to residents impacted by the storms. Officials in several communities, including Naperville and Woodridge, are also offering residents resources to use as clean-up from the storm continues.
2:52 p.m. Drone Video Captures Damage
Drone video of Chicago's suburbs in the path of the tornado showed the extent of damage in these areas.
2 p.m. Better Business Bureau Warns of Scams
The BBB is warning victims of severe storms to "beware of 'storm chasers' and unknown contractors soliciting business."
"Unfortunately, the aftermath of a crisis also brings out scammers and contractors taking advantage of those who have already been victimized," said Steve Bernas, president and CEO of BBB of Chicago and Northern Illinois.
The BBB is offering the following tips for victims of severe storms: Do your research, contact your insurance company, get more than one estimate, resist high-pressure sales, be especially careful of door-to-door contractors, don't sign over insurance checks to contractors and be wary regarding places you can't see.
1:42 p.m.: 8 Injured, More Than 20 Homes Left Uninhabitable in Naperville After Tornado
Officials in suburban Naperville say that at least eight people were injured and more than 20 homes were left uninhabitable after a radar-confirmed tornado tore through the city on Sunday night.
According to Naperville Fire Chief Mark Puknaitis, two of the victims who were injured were listed in critical condition after they were brought to area hospitals on Sunday, but both have already had their conditions upgraded and are expected to survive.
"This is a tragic day, but it could have been a lot worse," he said. "It's amazing that we can stand here and say that we only had eight people transported to hospitals. It looks like everyone injured in this accident is going to survive, and that is something to celebrate."
Fire officials say that 22 homes in the community were destroyed by the tornado, which is believed to have touched down just after 11 p.m. Sunday. In all, more than 130 homes sustained at least some damage from the storm.
NBC Sky 5 Captures Devastating Images of Tornado Damage From Above
NBC's Sky 5 flew over the areas impacted by Sunday night's tornado at around 11 a.m. to get an overhead view of the extensive damage caused by the severe weather. See the videos below:
10:57 a.m.: Naperville Updates on Damages, Clean-Up
Naperville said crews "continue to assess damages" from the tornado in the area south of 75th and Ranchview and "are currently focused on restoring power and removing trees, limbs and other debris from roadways."
Bailey Road remains closed between Washington and Naper Boulevard, the city said in a statement.
About 300 people remain without power in the area of Washington Street to the west, Naper Boulevard to the east, Bernie Court to the north and River Ridge Court to the south.
Residents should use the Parkway Tree Service Request Form here to report damage to parkway trees, Naperville said, while tree limbs and debris from trees on residential property should be placed at the curb.
Anyone looking to volunteer or assist should avoid the storm-damaged area at this time, the city said, asking anyone who would like to help in future efforts should call (630) 305-5340 to leave their contact information with city staff.
10:49 a.m.: NWS Sends 2 Survey Teams to Investigate Tornado Damage
The National Weather Service says it has dispatched two survey teams to investigate tornado damage in Chicago's western suburbs.
The first team was sent to the Naperville, Woodridge, Darien and Burr Ridge area, the NWS tweeted. A second team was sent to search for tornadic evidence farther north in DuPage County, specifically in Downers Grove and near Addison.
"We are still doing some follow-up work with various emergency management agencies to see if additional damage surveys will need to be done elsewhere. We hope to have some preliminary findings posted at some point this afternoon," the NWS said.
8 a.m.: Photos Show Damage and Destruction in Woodridge, Naperville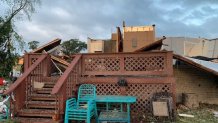 See more photos here:
6:51 a.m.: NWS Says Tornado Touched Down in Naperville, Woodridge, Darien
A National Weather Service spokesman said the agency is still surveying the Chicago area following massive storms and a tornado late Sunday night, but confirmed that a tornado did touch down in multiple Chicago suburbs as it moved from west to east.
Matt Friedlien with the NWS said early Monday that the agency can confirm a tornado touched down in the Naperville, Woodridge and Darien area and moved from west to east. The tornado paralleled 75th Street into Woodridge and crossed 355, he said.
He noted that the NWS is not sure the exact locations where the tornado touched down, noting it was unclear if the tornado moved past Darien, but expected to have that information around mid-day.
6 a.m.: 6 Injured, 16 Homes Uninhabitable in Widespread Damage From Naperville Tornado
Naperville officials say six people were hospitalized and 16 houses were deemed uninhabitable, with at least 125 more reports of property damage in the area after a tornado tore through the Chicago suburb Sunday.
Naperville officials said Monday morning that tornado sirens were activated at 11:07 p.m. Sunday night and the tornado was reported to have touched down at around 11:10 p.m. in the area just south of 75th Street and Ranchview Drive.
Fire and police personnel were dispatched to that area at 11:28 p.m., according to the city, and five people were taken to Edward Hospital: one in critical condition, while the other four sustained what were believe to be non-life-threatening injuries.
The city deemed 16 houses uninhabitable as of 6 a.m., with inspectors continuing to survey property damage Monday morning, noting widespread damage to homes, downed power lines and fallen trees across the area.
The city has received at least 125 reports of property damage with the area where the tornado touched down, with 10 people from three homes taken to a relocation point where the Red Cross and Salvation Army were assisting those displaced.
6:23 a.m.: NWS Details Overnight Tornado Damage
The NWS says "At least one damaging tornado occurred in the southwest Chicago metro & will be surveyed today," noting that the most significant damage was in the southwest suburbs of Naperville, Woodridge and Darien between 11 p.m. and 12 a.m.
"Significant damage to over a dozen southwest suburban homes and at least some damage to over 100 homes" was reported, the NWS said.
2:55 a.m.: Woodridge Conducting Damage Assessment From Tornado
Woodridge officials said the village is conducting a damage assessment from the tornado, with no reports of significant injuries as of 2:55 a.m.
A tornado touched down at around 11:30 p.m. in Woodridge east of Route 53 between 83rd Street and 75th Street, the village said, traveling east to the Lemont Road area.
DuPage Public Safety Communications activated the tornado sirens at 10:48 p.m. in Woodridge and the surrounding communities, according to the village.
Residents were advised to avoid the areas noted due to downed power lines and fallen trees. Emergency response crews remain on the scene.
2:45 a.m.: Woodridge Resident Recounts Eerie Calm Before Storm Struck
2:40 a.m.: Photos Show Widespread Damage From Tornado Across Chicago Area
Photos: Homes Damaged, Trees Toppled by Tornado in DuPage County
2:30 a.m.: Witness Recounts Moment Tornado Struck Woodridge
2 a.m.: Severe Thunderstorm Watch Expires
A severe thunderstorm watch in Will and Kankakee counties in Illinois, along with Lake, Porter, Jasper and Newton counties in northwest Indiana, was allowed to expire at 2 a.m., according to the National Weather Service.
The thunderstorms that sparked a slew of watches and warnings late Sunday and into early Monday have moved out of the NBC 5 viewing area.
1:42 a.m.: Clean-Up Begins After Powerful Storms Hammer Area
All severe weather warnings were allowed to expire throughout the Chicago area, but a long night of clean-up and damage assessment was just beginning in the city and suburbs.
Road closures were still prevalent in several areas, including in Woodridge, where a tornado touched down on Sunday night. Darien, Naperville and Burr Ridge are also reporting street closures due to storm damage, fires and other challenges in the early morning hours of Monday.
Heavy rainfall was reported throughout the area, with areas just west of Chicago and areas of northwest Indiana hit particularly hard.
1:03 a.m.: No Injuries Reported in Darien
A tornado that struck Chicago's western suburbs did serious damage in Darien, but no injuries have been reported thus far, according to officials.
Downed power lines remain a hazard in the community:
12:39 a.m.: Reports of Tornado Damage Continue to Come In From Woodridge
Officials in Woodridge have confirmed that a tornado touched down in the community late Sunday night:
Several structures were badly damaged in the tornado, and residents are being urged to avoid the areas of Janes Avenue, Woodridge Drive and Woodward Avenue.
11:19 p.m.: "Confirmed Large and Extremely Dangerous Tornado" Impacting Chicago Area
Calling it a "life-threatening situation," the National Weather Service urged residents to seek shelter as a "confirmed large and extremely dangerous tornado" caused damage in the western and southwestern suburbs of Chicago.
According to the NWS, the tornado was located over Darien at 11:15 p.m., and was moving east at 45 miles per hour.
11:16 p.m.: Tornado Warning Issued for Parts of DuPage, Cook Counties
A new tornado warning was issued for parts of DuPage and Cook counties, according to the National Weather Service.
The warning impacted east-central DuPage County and central Cook County, and was in effect until midnight.
A storm capable of producing a tornado was moving to the east at 45 miles per hour, located over Westmont at the time of the warning.
11:13 p.m.: Debris Signature Indicates Tornado Touch Down Near Woodridge, Bolingbrook
According to the National Weather Service, a debris signature on Doppler radar indicates that a tornado touched down near the border of Woodridge and Bolingbrook.
The storm that spawned the tornado is moving to the east at 50 miles per hour, according to the alert.
11:07 p.m.: Tornado Warning Issued for Parts of DuPage, Cook and Will Counties
A tornado warning was issued for parts of Will, DuPage and Cook counties, according to the National Weather Service, expiring at 11:45 p.m.
A storm capable of producing a tornado was located over Naperville at 11:05 p.m., moving to the east at 50 miles per hour.