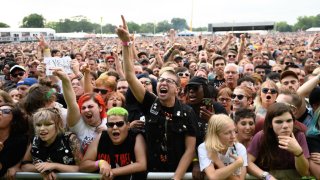 Officials have begun announcing the return of various music festivals across the Chicago area this summer after major shutdowns last year due to the COVID pandemic.
With vaccinations continuing across the Midwest, several events -- both new and old -- are making their way back to the area and could look a bit different in coming months.
Here are the music festivals and venues we know about so far, in chronological order:
Lollapalooza
Chicago's largest music festival will be held at Grant Park at full capacity from July 29 to Aug. 1, organizers said. Lollapalooza released its lineup Wednesday for the 2021 festival in Chicago's Grant Park this summer, with the Foo Fighters, Post Malone, Tyler the Creator and Miley Cyrus slated to headline.
Other artists scheduled to perform include DaBaby, Marshmello, Illenium, Journey, Megan Thee Stallion and Roddy Ricch.
Here's a look at the full lineup:
Organizers said a full COVID-19 vaccination or negative test results within 24 hours before attending the festival will be required for admission, in accordance with current public health guidance.
Pride in the Park
Pride in the Park has announced its return to Chicago's Grant Park, with plans to move forward with a two-day outdoor festival in June.
The event is expected to take place June 26 and 27, with a "COVID-safe outdoor festival that brings equity, diversity, safety, and sickening sounds to the main stage," organizers said.
The lineup has not yet been announced. Tickets are on sale now for $75 for an individual two-day weekend pass, and $210 for a VIP weekend pass, plus fees.
Ravinia Festival
Ravinia Festival has announced its summer concert lineup, preparing to reopen the park for the first time in more than a year for an in-person 2021 season.
The summer lineup will include 64 performances between July 1 and Sept. 26, organizers said, and will be the 85th season in Ravinia's history as the oldest outdoor music festival in the country.
Some of the featured pop, rock, indie, country and reggae artists in the lineup this year include:
Classic Albums Live: Led Zeppelin IV, July 24
Yacht Rock Revue debuts at Ravinia, July 31
Sideline makes its Ravinia debut, August 11—Carousel Concert
Willie Nelson & Family and Nate Smith, August 14
Gladys Knight, August 18
The Infamous Stringdusters and Leftover Salmon in their Ravinia debuts, August 20
The Beach Boys, August 21 and 22
John Hiatt and the Jerry Douglas Band, August 24
Lake Street Dive, August 26
Train, August 27 and 28
King Crimson and The Zappa Band make their Ravinia debuts, August 29
Collective Soul, Better Than Ezra, and Tonic share the bill on September 1
Indigo Girls and Ani DiFranco, September 10
Black Violin and Blind Boys of Alabama, September 11
Ben Folds with the Ravinia Festival Orchestra, September 18
Ziggy Marley: A Celebration of Bob Marley, September 19
Andrew Bird, September 24
This year, all concerts will be shorter, with no intermission, and will take place outside in the open-air pavilion with a reduced capacity. Tickets must be reserved in advance, and distanced seating will be used throughout the facility.
Tickets for the general public will go on sale on Ravinia's website in two phases: on June 16 for concerts between July 1 and August 15, then on July 21 for concerts after August 15.
Pitchfork
Pitchfork Music Festival has announced the lineup for its 2021 event, marking one of the largest music festival announcements in the city since the coronavirus pandemic began.
The festival, set to take place in September in Chicago's Union Park, will feature headliners like Phoebe Bridgers, St. Vincent, Erykah Badu, Flying Lotus, Animal Collective and more.
Here's a look at the full lineup:
Under the festival's health guidelines so far, attendees ages 12 and older will need to be fully vaccinated, or show proof of a negative PCR test within the past 24 hours for each day of the festival before they can enter.
Windy City Smokeout
Windy City Smokeout will return to Chicago from July 8 through July 11.
The annual outdoor festival, which features dozens of local and national BBQ pitmasters and restaurants, is expected to host up to 12,500 people per day, the city said. It is slated to take place in the parking lot of the United Center, with "an impressive musical lineup featuring country superstars and up-and-coming talent."
Grant Park Music Festival
The Grant Park Music Festival is back this year, and will be held from 6:30-8 p.m. on Wednesdays, Fridays and Saturdays from July 2 through August 21.
The series will feature 21 classical music concerts at the Jay Pritzker Pavilion in Millennium Park. The lineup includes the Grieg Piano Concerto, the New World Symphony, the William Tell Overture, Prelude to the Afternoon of a Faun, Carnival of the Animals, Classic Broadway and the annual Independence Day Salute.
According to city officials, all vendors, performers, ticketholders, and staff will be required to be fully vaccinated. Non-vaccinated attendees will need to show proof of a negative COVID PCR test from within 72 hours of entry to the event.
Country Thunder
Country Thunder's popular Wisconsin music festival will go on this summer, bringing headliners like Blake Shelton, Dustin Lynch, Kane Brown and more, even as other state music festivals postpone or cancel due to the coronavirus pandemic.
Country Thunder announced its 20-act lineup, saying the event will go on as planned July 15-18, 2021 in Twin Lakes.
Tickets are on sale now for Country Thunder. Other headliners include Clay Walker, Hardy, Chris Lane, Russell Dickerson, Tanya Tucker, Chicks with Hits and more.
Millennium Park Summer Music Series
The Millennium Park Summer Music Series will run from 6 p.m. to 8:30 p.m. on Mondays from Aug. 2 to Sept. 13, then at the same time on Thursdays from Sept. 2 to Sept. 16 at the Pritzker Pavilion. Admission will be free but advance reservations will be required for both the seating bowl and the Great Lawn to manage capacity. Lineup has yet to be announced but will be unveiled "soon," the city says, with reservation information to come.
Summer Camp
Popular Illinois music festival Summer Camp has announced plans to reschedule its 20th anniversary celebration.
The festival's website says the 2021 event, set to take place in Chillicothe, will now be held Aug. 20-22 "due to the ongoing circumstances surrounding the Covid 19 pandemic."
An updated lineup is expected to be released "soon," organizers said. Information for those needing refunds due to the date change is also expected to be released.
The previous lineup included headlines like Moe., Umphreys McGee, Ween, Billy String and Three 6 Mafia.
ARC
Union Park announced plans to host ARC, a new dance music festival in Chicago, over this year's Labor Day Weekend.
On Sept 4. and 5., ARC Music Festival will host a variety of house music artists from Adam Beyer and Bob Moses to Camelphat and Cristoph, according to the website. In Union Park, located in Chicago's West Town neighborhood, the music festival will be set on four stages over the course of two days.
Tickets for ARC go on sale Thursday at noon. For early access, click here.
North Coast
Chicago's annual North Coast music festival announced a lineup and venue change last month for the 2021 concert series.
Over Labor Day weekend, Sept. 3 to Sept. 5, North Coast will take place at SeatGeek Stadium in Chicago's Bridgeview neighborhood.
The 2021 lineup includes an array of electronic music artists including Kaskade, Louis the Child and Zeds Dead, among others. The music festival added a fourth stage this year to accommodate for artist-run record labels.
Tickets went on sale at the end of March and remain available here.
Pace Bus service will offer a direct shuttle to the CTA Orange Line, according to a release. The four stages will be spaced across various fields, with one inside a dome space.
Chicago In Tune
Chicago in Tune is a new citywide festival celebrating the city's "diverse and legendary music scene," officials say.
The festival features four events from 5:30 p.m. to 8:30 p.m. at the Jay Pritzker Pavilion in Millennium Park "honoring music born and innovated in Chicago." That includes: Gospel music (Sept. 3), Jazz (Sept. 4), House (Sept. 11), and Blues (Sept. 18).
Riot Fest
Riot Fest returns to Chicago this September after rescheduling the 2020 festival due to coronavirus concerns, officials announced.
From Sept. 17 to 19, the alternative rock music festival will feature bands such as Nine Inch Nails, Smashing Pumpkins and Pixies, among others, in Chicago's Douglass Park on the city's West Side.
On Sept. 16, one day prior to opening, Riot Fest announced the festival will host a "preview party," a special event for concert-goers who purchased tickets last year or buy tickets before July 16. The night will consist of mystery bands, first dibs on merchandise and carnival rides, according to the website.
Tickets are currently on sale for the festival here, starting at $159 for a weekend pass.
Summerfest
Summerfest, the popular Milwaukee music festival, has released its lineup for the 2021 event, which will take place over three weekends in September this year and is bringing some big names to Wisconsin.
The Jonas Brothers, Dave Matthews Band, Luke Bryan, Chance the Rapper, Chris Stapleton, Miley Cyrus and Zac Brown Band are among the headliners/.
Summerfest typically takes place in late June through early July every year but was pushed back to September this year to allow more time for COVID-19 vaccine distribution, organizers said.
The festival will now take place across three weekends: Sept. 2-4, 9-11 and 16-18, with kick-off concerts on the Wednesdays before. Tickets are on sale now here.
Hyde Park Jazz Festival
The Hyde Park Jazz Festival is coming back this year, scheduled to take place on Sept. 25 and Sept. 26 in - where else? - Hyde Park.
The 13th annual festival is free (though a $5 donation is suggested) and will be presented across 14 stages in the park, with more than 20,000 people expected to attend to see 30 bands.