Photos showing graffiti on parts of Starved Rock State Park over Memorial Day weekend are "appalling," park officials said Thursday.
Two photos taken at the Council Overhang at the iconic park in Illinois show parts of the rock surface vandalized with spray paint and markers.
"It's not something you can simply wipe away," said Park Superintendent Kerry Novak, noting that the materials used to deface the rock have likely been absorbed into the sandstone, making it difficult to remove.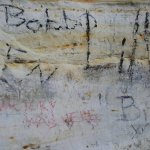 Novak said most of the vandalism took place of the long holiday weekend, when the park saw unprecedented crowds.
"Something like this is hard to explain but people will do it," he said.
Novak noted that removing the graffiti will likely be a big expense for the park, as the location of the vandalism is in a remote area off the core trail system.
"It's fairly remote, it's going to take people to haul all this stuff in there mostly by hand so yes it will be expensive," he said. "Naturally, we have to protect the canyon and the walls. I don't want to take this stuff off and do more damage."
Novak said he's just happy no one was injured in the process.
"It's disgusting but thank God nobody gets hurt," he said.