One of the greatest arcade games to ever be created was the late '80s or early '90s version of WWF Royal Rumble.
Perhaps that would be the best way to figure out who makes the Hawks this year on the forward line, either having them all play the game or re-enact it.
The Hawks have 14 forwards listed on their web site competing for the 12 dressed spots. That doesn't include Jeremy Morin, who in this blogger's humble opinion, is going to be with the big club at some point, even though it's likely he won't start the year here.
We know for sure that Jonathon Toews, Patrick Kane, Patrick Sharp, Marion Hossa, Brunette, Bolland, Frolik, Bickell, Carcillo, and Mayers are going to be on the squad. That's 10 of the 12 slots filled, with two more getting their suits ready for the pressbox.
Where does that leave us? Well, as previously discussed a spot on the second line or third line, depending where Bickell goes, and a 4th line spot. Where that 4th line spot is depends on if they slot Jamal Mayers at center or wing. There's a lot of accordion things going on here.
So Ben Smith, Viktor Stalberg, Marcus Kruger, and Rusty Olesz duking it out to see who gets to put on pads. We know that Kruger is going to get every chance to stake that second line role, leaving only a fourth line role for the other three.
Viktor Stalberg skated on the fourth line some last year, but that was more out being out of options than him being suited for it. He is fast, and is big, and is willing to throw his weight around when on that unit. But while it's nice that he's willing, it doesn't do you much good when you're looking like Wile E. Coyote trying to run into the painted tunnel agains the rock while doing it. With a big camp. Stalberg can put himself in the discussion for the Top 9 role, which would pull either Kruger or Bickell into the muck.
Smith has the advantage of having played center at Rockford and at college. While Mayers would still have to take the draws, he's better suited to be on the wing. Smith wowed everyone with his brief cameo in April, but he's hardly guaranteed anything. However, he comes with the snarl and effort you want on the 4th line, and would have to be clearly bad in camp to not be here.
Olesz is an interesting case, because no one has any idea what he is or whether the Hawks have the stomach to pay him $3 million to play in Wester Illinois. He has size, but isn't a 4th line player. But he doesn't appear to have the skills to be on the top lines either, unless there's something he didn't show in Florida.
Can we get Mean Gene Orkerlund to narrate this?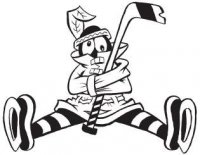 Sam Fels is the proprietor of The Committed Indian, an unofficial program for the Blackhawks. You may have seen him hocking the magazine outside the United Center at Gate 3. The program is also available for purchase online. Fels is a lifelong 'Hawks fan and he also writes for Second City Hockey .