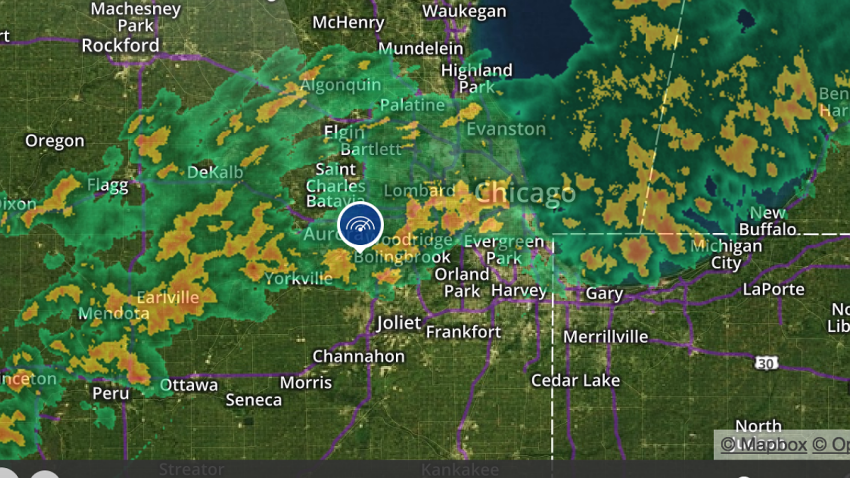 Storms poured more than four inches of rain on some parts of the Chicago area Saturday as potentially severe weather threatened damaging winds, heavy downpours and possibly even tornadoes.
A Tornado Watch was issued in the early evening for LaSalle, Grundy, Kendall, Livingston, Lee and Kankakee counties through 1 a.m., according to the National Weather Service.

A Severe Thunderstorm Warning was issued for Porter and Lake counties in northwest Indiana until 9:45 p.m. Most counties across northern Illinois remained under a Flash Flood Watch through late Saturday, with flooding expected along portions of the Des Plaines, DuPage and Fox Rivers, the NWS said.
The Chicago Riverwalk flooded as well, with water levels overtaking the downtown tourist hotspot. [[450922613, C]]
Across the Chicago area, several inches of rain fell by Saturday afternoon, with storms expected to continue throughout the night into early Sunday.
Suburban Lisle in DuPage County saw 4.37 inches of rain, while Naperville saw over 4 inches as well, prompting officials to close several roads due to high standing water.
Naperville residents were asked to avoid the following areas: Julian between Porter and Prairie; Prairie between Columbia and Julian; North Aurora at the via duct; 5th Avenue just west of Mill Street; Bunker Circle at Country Lakes; Royal St. George at Burning Tree; Olesen south of Whirlaway; Fairway at Inland Circle; and Naper Boulevard just north of 75th Street. [273569591, C]]
O'Hare Airport recorded 2.06 inches between Friday night and Saturday afternoon, setting a record for rainfall over a 24-hour period. Rainfall totals were expected to increase as storms pass through the area. [
The inclement weather caused flight cancellations and delays at both Chicago airports, with more than 200 flights canceled at O'Hare and 36 at Midway by 6 p.m.. Delays at O'Hare were averaging around 43 minutes Saturday evening.
A strong cold front will shift across the Chicago area Saturday night, resulting in possible severe weather and damaging winds of up to 70 mph. [[450929523, C]]
Any lingering showers will end early Sunday morning before clouds break for partial sun by the afternoon, though winds will still be strong. The area also will see an elevated frost risk Sunday night and Monday morning.
Sunday will be a much cooler today as highs dip into the upper-50s, dropping even cooler in the afternoon.
Sunshine returns for the start of the work week as temps rise back into the 60s and near 70 degrees by mid-week.