Police have released surveillance photos of suspects who they say crashed a car through the glass doors of a Louis Vuitton store and stole $120,000 worth of merchandise Sunday at a suburban mall.
Just after 4 a.m. police said a minivan backed into the front doors of the Louis Vuitton store in the Oakbrook Center mall and eight people wearing masks and gloves entered the store.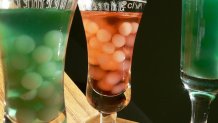 The offenders stole 50 items worth more than $120,000 worth of merchandise and fled the scene.
[[253870521, C]]
The crash caused extensive damage to the store's front door and windows, police said.
An investigation into the theft is ongoing, officials said.