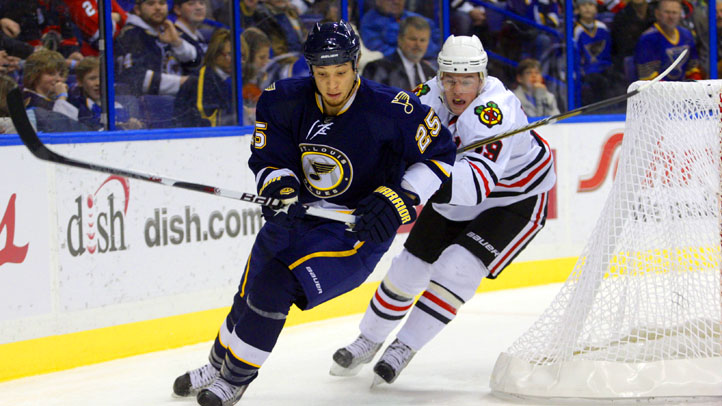 I've been meaning to get to this for a couple days now, but Monday afternoon was my first chance to follow a team to another town as the supporter for a defending champion.

It's certainly never happened in baseball (yes, folks, I bleed blue, not silver and black, and I mourn that fact every day). And when the Bears were defending the only championship of my lifetime I was 5 years old, so I wasn't exactly beating it up to Green Bay in my Super Bowl XX gear (I think I had one T-shirt, though).

The jaunt down Interstate 55 for a Monday matinee was a new occasion for me.
The Blues-Hawks rivalry doesn't quite carry the bloodlust the Wings or Canucks do, though it has the proximity of the former. And while games between the two are always passionate affairs, our playoff battles with each other are long buried in the 90s, and most fans of both teams can hardly remember them.
Both teams have seen a change in ownerships and attitudes in recent years, so there's that shared bond, as well as the overall bile both sets of fans carry for the Winged Wheel. An afternoon start also kept the passions at bay. After all, the bars were only open an hour before it was time to head into the ScotTrade Center.
It riles Blues fans that the arena goes half red every time the Hawks show up, but the reverse isn't possible with the way Hawks tickets are gobbled up. There is a feeling of pride marching toward the arena surrounded by your traveling brethren, even if you don't know them. There are a lot of knowing looks shared and nods to each other. For one afternoon, we're all in this together in a place where we're not exactly welcomed.
After meeting up with Sean Gallagher, my comrade in arms and the publisher of St. Louis Gametime (The St. Louis counterpart to the Committed Indian), I head in to the arena.

Not 30 seconds later, I get to break out the artillery I had been waiting all day to use. A friendly guy next to me took one look at my vintage Roenick jersey and said, "You're on the wrong side, today."
"So it would seem," I replied.
"You're going to get your fair share of grief," he said.
"I guess all I've got is this Stanley Cup to keep me warm," I quipped.
Check and mate.
There's really nowhere to go after that for any barb-thrower. And though it may be a cheap way out, I've never gotten to fire that bullet, so you better believe I was going to use it as often as I could.
When the game started without the Hawks, I was pretty sure I was in for torture. There's no dumber feeling than being an opposing fan when the home team scores. You're surrounded by people standing up as you stare at the roof wondering if the 10-hours of combined driving was really a good idea.

After the first 20 minutes, all I could think about was how I was going to spend the next 40 minutes having popcorn thrown at me as the insults rained down, and how even my Cup bazooka wasn't going to save me from this afternoon.
Ah, but the Hawks, like the good friend they can be, saved us all from that with a rousing second period. As dumb as the feeling of the home team scoring is, that's how uplifting it is watching your visitors score.

You can feel the eyes searing into you as you celebrate another Hawks goal, but you know that as long you're not one of those mouth-breathers who turns around and taunts, there's nothing they can do about it.

I learned my lesson about that in the upper deck at Dodger Stadium (otherwise knows as Thunderdome), and all it took was the flashing of one butterfly knife. I found a Hawks fan a few seats down to exchange high-fives with. I'll never see that guy again, but we'll have Monday afternoon.
You definitely walk an inch or two taller after seeing your team attain a win in an opposing building, shaking hands with anyone in the same colors as you. And for one afternoon, I knew Blues fans were watching us walk off with not just a victory on that day, but away with something they've never experienced. And you can get high off that jealousy. Man it was glorious.
Let's do it again next year?