Millennium Park still feels new to most Chicagoans, but it's in line for a bit of a face lift for the summer as a couple of temporary installations are planned as part of the centennial celebration of The Chicago Plan.

Alderman Brendan Reilly and the Burnham Plan Centennial Committee have unveiled designs for two pavilions to be installed in the park in June. The designs symbolize the "forward-looking agenda" of the 220 organizations commemorating the 100th anniversary of the Plan of Chicago -- a plan the Chicago Tribune says, "changed the face of Chicago."

The architects' rendering of the two recyclable pavilions were released by Reilly, the Burnham Committee, the City of Chicago Department of Cultural Affairs, the Art Institute of Chicago and Friends of Downtown.
Both pavilions--one designed by London-based Zaha Hadid and the other by Amsterdam-based Ben van Berkel of UNStudio -- are meant to "emphasize the importance of boldly imagining a better future for all," a press release stated, likening that to the bold imaginations of Daniel Burnham and Edward Bennett in their 1909 Plan of Chicago.

An added attraction to the installations is the fact that they respond to current economic concerns, organizers say.

"Each will cost about $500,000, plus donated materials," the Tribune reports, "spare charge compared to The Bean's $23 million tab."

"It's like Vera Wang doing Kohl's clothing," Joseph Rosa Art Institute of Chicago curator Joseph Rosa said.
The pavilion designs were unveiled at an event at the Chicago Cultural Center Tuesday and were widely applauded.

Reilly, who fought unsuccessfully to keep a new children's museum from being built in the park, stressed to Tuesday's crowd that these installations are temporary.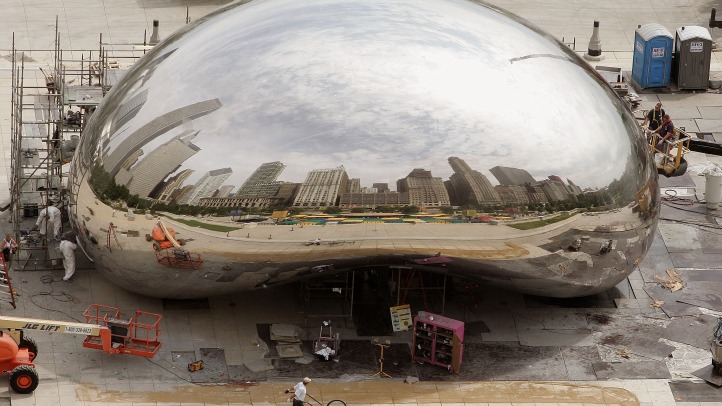 "I can't underscore that enough," he said emphatically. "These are temporary."

The designs, described as walk-through pavilions, will be the focal point of the Burnham Plan Centennial Committee's celebration.

The pavilions will be open free to the public from June 19 through Oct. 31 on the South Chase Promenade of Millennium Park.
Check out the Grant Park Music Festival schedule for the new season.