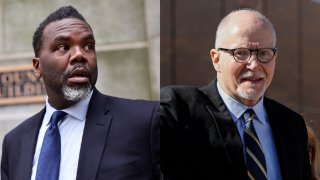 Chicago mayoral candidates Paul Vallas and Brandon Johnson continue to vie for endorsements from political leaders across the city and the country with the election less than two weeks away, with some eye-popping names lending their support to the campaigns.
Vallas and Johnson advanced to the runoff election out of a field of nine candidates, including incumbent Mayor Lori Lightfoot. According to data from the Chicago Board of Elections, Vallas received 32.9 percent of the first-round vote, while Johnson won 21.63 percent of the vote.
Although more than half of the members of the Chicago City Council issued endorsements in the first round of this year's mayoral election, many are now being courted by the race's two remaining candidates as both aim to consolidate support.
Vallas, the first-place finisher of last month's election, entered the runoff with endorsements from downtown City Council members Brendan Reilly and Brian Hopkins, while also receiving backing from Far Northwest Side Ald. Anthony Napolitano and long-time Lakeview Ald. Tom Tunney.
The candidate also added Illinois Sen. Dick Durbin, the Senate's majority whip, to his roster of supporters on Sunday.
To start the runoff campaign, Vallas received endorsements from former Illinois Secretary of State Jesse White and former mayoral candidate and 6th Ward Ald. Roderick Sawyer, the former of whom backed Lightfoot in the first round.
In the weeks since, Vallas has received the support of several more City Council members, former mayoral challenger Ja'Mal Green and former U.S. Secretary of Education Arne Duncan.
As for Johnson, endorsements from the Chicago Teachers Union, United Working Families and several progressive City Council members helped propel his campaign to prominence and eventually a second-place finish in the first round of the mayoral election.
In the time since, Johnson has continued to consolidate support from much of the city's left-of-center political brass, receiving endorsements from Cook County Board President Toni Preckwinkle and Congressman Danny Davis.
Massachusetts Sen. Elizabeth Warren has also endorsed Johnson, as has the Sen. Bernie Sanders-backed group Our Revolution.
Endorsements could provide a critical boost to the two candidates, both of whom are seeking to build a broad coalition that will likely be needed to emerge as the victor in the April 4 runoff.
The Groups Included in This Guide
-The Chicago Teachers Union represents more than 25,000 educators in the city, and describes its mission as being "dedicated to advancing and promoting quality public education, improving teaching and learning conditions, and protecting members' rights."
-The International Union of Elevator Constructors is a union representing more than 25,000 workers in the profession of building, modernizing and repairing elevators.
-SEIU Healthcare is a union representing healthcare, child care, home care and nursing home workers in four Midwestern states, including Illinois, Indiana, Missouri and Kansas.
-SEIU Local 1 represents more than 50,000 workers in the Midwest, with janitors, security officers, airport workers, food service workers and more, according to its website. Its endorsements are split between the local chapter of the union and the Illinois State Council, according to a press release, and we have made note on which division of the union endorsed which candidate.
-SEIU Local 73 represents more than 31,000 workers, primarily in public service and publicly-funded positions. It says it chooses candidates to endorse that "best support working families' issues."
-Sierra Club Illinois Chapter is the state chapter of the nationwide environmental advocacy organization, promoting sustainable practices and expanding environmental protections.
-Equality Illinois is the state's oldest LGBTQ+ rights and advocacy organization, and was originally founded as the Illinois Federation for Human Rights.
-Illinois Nurses Association is a group that "advocates for all of nursing", and works to elevate the priorities of nursing in legal and regulatory decisions.
-United Working Families is a group "dedicated to building people-powered infrastructure and campaigns," including pushing for high-paying jobs, quality public education and affordable housing, according to its website.
-American Federation of Government Employees Local 704, who represent nearly 1,000 Environmental Protection Agency employees across the Midwest.
-Armenian National Committee for America, a nationwide organization that advocates for visibility toward issues relevant to Armenian Americans.
-AFSCME Council 31 represents public-sector employees in the city of Chicago and surrounding suburbs.
-Plumbers Local 130 represents hundreds of plumbing professionals across the Chicago area.
-International Union of Operating Engineers Local 150 "represents approximately 23,000 men and women working in a variety of construction and other industries" in parts of Illinois, Indiana and Iowa, according to its website.
-National Association of Letter Carriers, Local Branch #11, represents more than 5,000 active and retired letter carriers in the Chicago area.
-National Nurses Organizing Committee/National Nurses United is the largest union of registered nurses in the U.S.
-Asian-American Midwest Progressives represents the area's Asian-American community, and looks to "build political power through collective advocacy."
NOTE: We will continue to update this list as more endorsements become available. If your organization has made endorsements in the 2023 municipal election, email limchicago@nbcuni.com.
Cook County Commissioner Brandon Johnson:
City Council members (ward represented in parentheses, *denotes Ald.-elect):
Daniel La Spata (1st)
Pat Dowell (3rd)
Julia Ramirez* (12th)
Jeanette Taylor (20th)
Howard Brookins Jr. (21st)
Michael Rodriguez (22nd) [endorsed García in first round]
Byron Sigcho-Lopez (25th)
Jessie Fuentes* (26th)
Jason Ervin (28th) [endorsed Lightfoot in first round]
Rossana Rodríguez-Sanchez (33rd)
Carlos Ramirez-Rosa (35th)
Andre Vasquez (40th) [endorsed García in first round]
Matt Martin (47th)
Maria Hadden (49th)
U.S. Senators and Representatives (District represented in parentheses):
Sen. Elizabeth Warren (Mass.)
Sen. Bernie Sanders (Vt.)
Rep. Jonathan Jackson (IL-1)
Rep. Delia Ramirez (IL-3)
Rep. Jesús "Chuy" García (IL-4) [former mayoral candidate]
Rep. Danny Davis (IL-7) [endorsed Lightfoot in first round]
Rep. Jan Schakowsky (IL-9) [endorsed García in first round]
Rep. Jim Clyburn (SC-6)
Rep. Jamaal Bowman (NY-16)
Rep. Brendan Boyle (PA-2)
Rep. Troy Carter (LA-2)
Rep. Ayanna Pressley (MA-7)
City and county officials:
Cook County Board President Toni Preckwinkle
Chicago City Treasurer Melissa Conyears-Ervin (endorsed Lightfoot in first round)
Cook County Commissioner Dennis Deer
Cook County Commissioner Josina Morita
Cook County Commissioner Anthony Joel Quezada
Cook County Commissioner Stanley Moore
Cook County Board of Review Commissioner Samantha Steele
Statewide officials:
Illinois Attorney General Kwame Raoul
State Senators and Representatives:
Sen. Majority Leader Kimberly Lightford
Sen. Cristina Pacione-Zayas
Sen. Mattie Hunter
Sen. Mike Simmons
Sen. Robert Peters
Sen. Ram Villivalam (endorsed García in first round)
Sen. Omar Aquino
Sen. Robert Martwick
Sen. Elgie Sims
Rep. Justin Slaughter
Rep. Kam Buckner (mayoral candidate in first round)
Rep. Lakesia Collins
Rep. Mary Flowers
Rep. Will Guzzardi
Rep. Lilian Jimenez
Rep. Kelly Cassidy (endorsed Lightfoot in first round)
Rep. Edgar Gonzalez Jr. (endorsed García in first round)
Notable individuals:
Former U.S. Shadow Senator Rev. Jesse Jackson (D.C.)
Former U.S. Sen. Carol Moseley Braun (Ill.)
Former U.S. Rep. Marie Newman (IL-3) [endorsed Lightfoot in first round]
Evanston Mayor Daniel Biss
Former Cook County Clerk and Acting Mayor of Chicago David Orr (endorsed García in first round)
Mayor of Little Rock, Ark. Frank Scott Jr.
Mayor of Denver Michael B. Hancock
Mayor of Newport News, Va. Phillip Jones
Chicago-based band Wilco
Musician and Chicago native Common
Chicago-based rapper Vic Mensa
Civil rights activist Martin Luther King III
Television judge Greg Mathis
Groups and unions:
American Federation of Teachers
Chicago Teachers Union
Illinois Federation of Teachers
Service Employees International Union Locals 1, 73
Service Employees International Union Healthcare
United Working Families
Sierra Club Illinois Chapter
Equality Illinois (endorsed Lightfoot in first round)
Illinois Nurses Association
American Federation of Government Employees Local 704
National Nurses Organizing Committee/National Nurses United
Chicago College and University Unions
Commuters Take Action (endorsed Buckner in first round)
Starbucks Workers United Illinois
People's Action
International Brotherhood of Teamsters Local 743
National Association of Social Workers - Illinois
Indivisible Chicago Alliance
National Association of Letter Carriers Local #11
Asian-American Midwest Progressives
Former CPS CEO Paul Vallas:
City Council members (ward represented in parentheses, *denotes Ald.-elect):
Brian Hopkins (2nd)
Sophia King (4th) [former mayoral candidate]
Roderick Sawyer (6th) [former mayoral candidate]
Michelle Harris (8th) [endorsed Lightfoot in first round]
Anthony Beale (9th)
Nicole Lee (11th)
Raymond Lopez (15th) [endorsed Wilson in first round]
David Moore (17th) [endorsed King in first round]
Derrick Curtis (18th)
Matthew O'Shea (19th)
Silvana Tabares (23rd)
Roberto Maldonado (26th)
Walter Burnett Jr. (27th) [endorsed Lightfoot in first round]
Ariel Reboyras (30th)
Felix Cardona Jr. (31st) [endorsed García in first round]
Emma Mitts (37th) [endorsed Lightfoot in first round]
Nicholas Sposato (38th)
Samantha Nugent (39th)
Anthony Napolitano (41st)
Brendan Reilly (42nd)
Tom Tunney (44th)
Bennett Lawson* (44th)
Debra Silverstein (50th)
U.S. Senators and Representatives:
Sen. Dick Durbin (D-Illinois)
State Senators and Representatives:
Rep. Angelica Guerrero-Cuellar
City and county officials:
Cook County Circuit Court Clerk Iris Martinez
Cook County Board of Review Commissioner George Cardenas
Notable individuals:
Former Illinois Secretary of State Jesse White
Former U.S. Secretary of Education, CEO of CPS Arne Duncan
Businessman and former mayoral candidate Willie Wilson
Community activist and former mayoral candidate Ja'Mal Green
Former Chair of Illinois State Board of Education, mayoral candidate Gery Chico
Former Illinois State Senate President Emil Jones
Former Congressman Bobby Rush (IL-1) [endorsed Lightfoot in first round]
Former Illinois Governor Pat Quinn (endorsed García in first round)
Former State Sen. Antonio Munoz
Groups and unions:
Fraternal Order of Police Chicago Lodge #7
International Union of Elevator Constructors Local 2
LGBT Chamber of Commerce of Illinois
Armenian National Committee of America
Plumbers Union Local 130 (endorsed Lightfoot in first round)
International Union of Operating Engineers Locals 150, 399 (endorsed García in first round)
International Brotherhood of Electrical Workers Locals 9, 134
Ironworkers Union District Council of Chicago
Firefighters Local 2
Chicagoland Chamber of Commerce
Latino Leadership Council (endorsed García in first round)
Chicagoland Apartment Association
Illinois Hotel and Lodging Association
Illinois Manufacturers' Association
Illinois Retail Merchants Association
Gasworkers Local 18007 (endorsed García in first round)
Illinois Hispanic Chamber of Commerce
Cook County Democratic Women
Publications:
Chicago Tribune
Gazette Chicago