A night of unrest and looting left dozens arrested, several officers injured and countless businesses damaged across multiple Chicago neighborhoods for a second time this summer.
Travel restrictions were in place throughout the morning and more were expected again Monday evening and overnight.
Here are the latest updates as the situation unfolds in Chicago:
New Efforts to Protect Chicago Businesses, Communities After Overnight Looting
Elected officials and Chicago community leaders took part in a news conference Monday, responding to the impact widespread looting has had on the city's neighborhoods.
Several businesses in the city were damaged and more than 100 people were arrested following hours of looting and unrest in the overnight hours.
During a Zoom discussion, Ald. Byron Sigcho-Lopez, of the city's 25th Ward, said city leaders want to make sure they are proactively bringing solutions to all neighborhoods and areas of Chicago.
Others admitted that help is desperately needed.
"If there was ever a time, we need urgent, well thought-out practical solutions that deal with the core of the issue. Now is that time," said Jitu Brown, national director of the Journey for Justice Alliance.
Man Faces Attempted Murder Charges After Englewood Police-Involved Shooting
A 20-year-old man is facing felony attempted murder charges after he was shot by Chicago police officers during a confrontation Sunday afternoon in the city's Englewood neighborhood, authorities say.
According to a press release from Chicago police, Latrell Allen, 20, faces two felony counts of attempted first-degree murder in connection with the incident, along with one felony count of unlawful use of a weapon.
According to police, Allen was arrested at approximately 2:46 p.m. Sunday in the 5600 block of South Aberdeen after he allegedly pointed a gun and fired multiple shots at uniformed Chicago police officers, who were in the area after receiving a call of an individual with a gun.
Police had earlier said the shooting is believed be at the center of what ultimately led to looting and unrest across the city overnight.
Street Closures, Bridge Lifts, Transit Changes: Access to Downtown Restricted After Looting
Part of Lake Shore Drive will be closed, several expressway ramps blocked, bridges up and rail service suspended for parts of Chicago Monday night and Tuesday morning as the city restricts access to its downtown following hours of looting and unrest that left several city businesses damaged and led to more than 100 arrests.
Chicago Police Supt. David Brown announced earlier Monday that access to downtown would be "restricted" from 8 p.m. to 6 a.m. as part of a multi-layer plan that was also used when looting and unrest unfolded in the city earlier this summer following the death of George Floyd in Minneapolis.
The city's Office of Emergency Management and Communications later released details on what those restrictions would include.
Click here to see the full restrictions.
Cook County State's Attorney Reveals Numbers from Previous Looting Cases as Officials Call for Accountability in Recent Arrests
Amid calls from Chicago's mayor asking Cook County State's Attorney Kim Foxx to hold those arrested for looting overnight in Chicago accountable, Foxx defended her office's actions.
Questions over whether a lack of consequences played a role in overnight looting and unrest surfaced as some cited the fact that Foxx's office declined to prosecute people associated with peaceful protesting as unrest led to looting and destruction earlier this summer.
"The violence and destruction we saw last night was unacceptable," Foxx tweeted Monday afternoon. "The @cookcountysao has been extremely clear in making the distinction between peaceful protestors and prosecuting those causing harm, damage, and inciting violence."
Her tweet was accompanied by a photo breaking down how many cases were being prosecuted following the first round of arrests in late May and early June.
More than 100 people were arrested in downtown Chicago early Monday as the chaos also left more than a dozen officers injured, police said.
"Put your best people on this," Chicago Mayor Lori Lightfoot said Monday. "We have made the case, we have the video, we have the officer testimony - these people need to be held accountable and not cycled through the system. And judges that are holding these these cases, you need to step up and be responsible. We can't continue to allow this to happen and as the superintendent said, for people to believe that there is no accountability through our criminal justice system... no one wants to hold people in jail because they are poor, but people who engage in this kind of criminal activity, they need to be held accountable."
BLM to Hold 'Solidarity Rally' at CPD Station
Black Lives Matter is planning to hold a "solidarity rally" in Chicago Monday evening. The rally is set to take place outside a Chicago police station with members showing support for those arrested during the overnight hours that saw chaos, looting and unrest in downtown Chicago and several city neighborhoods.
State Police Announce Ramp Closures in Effect 'Until Further Notice'
Illinois State Police on Monday afternoon announced a series of ramp closures that will remain in effect "until further notice."
They include:
Interstate 94 northbound and southbound to exit ramps 159th St. westbound and 147th St. (Sibley) westbound
Interstate 80 eastbound and westbound at Torrence Avenue
Interstate 57 northbound and southbound at 147th Street (3pm- until further notice)
Police urged drivers to use alternate routes.
Heavy Police Presence Seen as Civil Unrest Reported on Chicago's West Side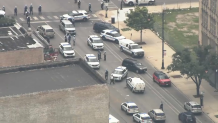 Chicago police reported civil unrest happening on the city's West Side just before 1 p.m. Monday.
The scene was unfolding near Madison and Karlov streets. It wasn't immediately clear what was happening or if any injuries were reported but police were at the scene responding.
NBC's Sky 5 chopper is headed to the scene and will appear live in the player above.
What Police Believe Led to Night of Looting, Unrest in Chicago
Social media posts that followed a police-involved shooting in Chicago encouraged looting as "tempers flared, fueled by misinformation," Police Supt. David Brown said after an evening of unrest led to more than 100 arrests and left downtown businesses damaged for a second time this summer.
"The seeds for the same full destruction we saw last night were sown in the 5700 block of South Racine Avenue," Brown said Monday morning.
Police said it was there, on Sunday afternoon, officers first responded to a call of a man with a gun. Brown said the officers were attempting to interview a suspect when the person fled and ultimately pointed a gun at officers and opened fire.
Officers returned fire and the 20-year-old man was wounded but is expected to survive, police said, adding that a weapon was recovered from the scene.
"After the shooting, a crowd gathered on the South Side," Brown said. "Following police action, tempers flared fueled by misinformation."
CPD Deputy Chief Yolanda Talley said Sunday evening the emotional response came from "one agitator being on the scene, getting people all worked up without having the full story."
According to police officials, one officer was maced by someone in the crowd, and another suffered an injured shoulder. Additionally, someone threw a brick at a CPD cruiser, shattering its windows.
"As the afternoon turned into evening, CPD became aware of several social media posts encouraging looting downtown," Brown said.
As a result, 400 officers were dispatched to downtown Chicago as "car caravans" headed to the Loop.
"This was not an organized protest rather than this was an incident of pure criminality," Brown said. "This was an act of violence against our police officers and against our city."
More Than 100 Arrested in Chicago Looting and Chaos; 13 Officers Injured, Police Say
More than 100 people were arrested in the chaos and looting that erupted in downtown Chicago early Monday that also left more than a dozen officers injured, police say.
Chicago Police Supt. David Brown announced the arrests at a news conference Monday morning alongside Mayor Lori Lightfoot.
Brown said more than 100 people were arrested for allegations of looting, disorderly conduct and more in the chaos, looting and violence that broke out after midnight in the downtown area.
Access to Downtown Chicago Restricted Overnight, Supt. Brown Says
Chicago Police Supt. David Brown said access to downtown Chicago will be restricted from 8 p.m. to 6 a.m. as the city works to prevent another night of looting and unrest.
The move is part of a multi-layered plan to combat the violence and chaos that unfolded during the overnight hours following a police-involved shooting in the city.
"A heavy police presence will continue throughout the downtown today and until further notice," Brown said.
Watch Live: Chicago Mayor, Top Cop Address Widespread Looting in City's Downtown
Chicago's mayor and police superintendent are expected to give a live update Monday morning after chaos erupted in downtown Chicago overnight, with widespread looting at countless businesses, property damage and shots fired both at and by police.
Chicago Mayor Lori Lightfoot and Supt. David Brown will appear at 8 a.m. to "discuss criminal activity overnight in the downtown area," according to Chicago Police News Affairs.
Watch live in the player above or below or click here for more.
Cook County Courts Closed 'Due to Restricted Access'
City Court of Cook County Chief Judge Timothy Evans ordered the closing of all courts Monday, with the exception of bond courts, "due to restricted access to Chicago's downtown area resulting from public safety activities and limits on public transportation.
Bond courts at the Leighton Criminal Court House, the Domestic Violence Courthouse, the Juvenile Justice Division and all six municipal districts will remain open, he said.
All cases scheduled for Monday will be continued for 30 days.
Some Transit Begins Resuming
According to Chicago's Office of Emergency Management and Communications, CTA was restoring service just after 7:15 a.m. and the Chicago Department of Transportation bridges and expressway ramps downtown would be reopening. Several street closures remained in effect throughout the area, however.
Pace was set to resume service by 8 a.m.
As of 7:30 a.m., previously raised downtown bridges were expected to come back down, except for La Salle and Lake Shore Drive, officials said. It remained unclear if and when that would happen.
Some College Campuses Closed Due to Downtown Unrest
City Colleges of Chicago closed Harold Washington College and the district office Monday "due to to activity downtown."
In additional, Loyola University Chicago closed its Water Tower campus Monday.
"We are aware of some widespread and ongoing looting and rioting in downtown Chicago around Loyola's Water Tower Campus," a notice to students read early Monday morning. "Loyola Campus Safety and the Chicago Police Department are patrolling the area and monitoring this situation."
The campus was closed to all students, faculty and staff, but essential personnel who "maintain security and operations of facilities" and those who resident Baumhart Hall were not included.
City Hall Employees Told to Telework Monday
In a notice, City Hall employees were told to work from home Monday "due to restricted access to downtown."
"If you were planning to be in the office today, please telework," an alert said. "Unless you have a work that needs to be in a different day this week, please stick to your regular schedule for the rest of the week."
Chaos in Chicago Sparks Traffic, Transit Closures
The Chicago Transit Authority shut down all train and bus service downtown "at the request of public safety officials," the CTA said early Monday morning. Buses were not running in the area bounded by Fullerton, Cermak and Ashland Avenue until further notice, the CTA said, with all train service temporarily suspended as well.
The bridges over the Chicago River were lifted at around 4:30 a.m., preventing further entry into and exit from the downtown area.
Illinois State Police confirmed at around 5 a.m. that Chicago police asked for assistance in blocking all expressway ramps going in and out of the city's Loop: from Cermak to I-55, I-94 from Roosevelt to Division and Congress Parkway from I-290.
Metra said each of its four downtown stations were running as normal.
"Do not come downtown today," Ald. Brian Hopkins said. "It's not safe and if you live in Streeterville... stay home. It's not a safe situation on the streets right now."
Widespread Damage Reported as Looting and Chaos Erupt in Downtown Chicago
The unrest began at around 12:20 a.m., when police were called to reports of a mob scene on Michigan Avenue. Large crowds gathered outside the Saks Fifth Avenue and Coach stores, with hundreds of people yelling and throwing things at officers.
Looters were captured on video in multiple locations, with merchandise taken and storefronts vandalized. Officers were told to respond wearing helmets and there were multiple reports of gunshots.
Just before 5 a.m., a Chicago police spokesman tweeted that shots had been fired at officers who returned fire near the intersection of Michigan Avenue and Lake Street. No officers were injured, Tom Ahern said, adding that it was not known at the time if the offenders were shot.
It appeared as though the looting initially began in the city's Loop, but spread to multiple Chicago neighborhoods in the overnight hours, with reports of businesses struck in River North, Streeterville, Lincoln Park, the Gold Coast and the South Loop as well.