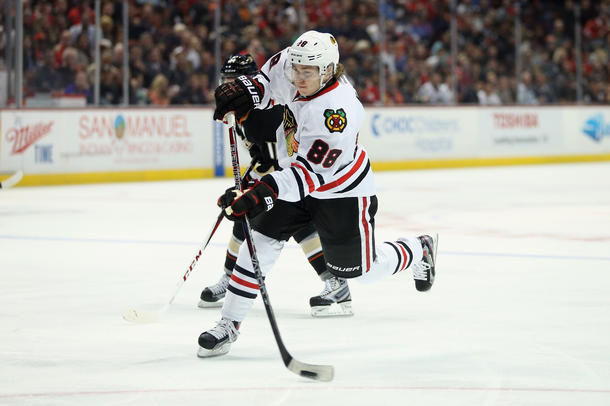 The Chicago Blackhawks had an interesting weekend against teams from the Great White North, winning a 5-1 decision against the Winnipeg Jets at MTS Centre on Saturday afternoon, but falling to the Calgary Flames in a 3-2 overtime loss on Sunday night.
Since we didn't do a Three Stars piece after Saturday's tilt, we went ahead and combined the two games for this special weekend edition of Three Stars.
Third Star: Patrick Kane
Kane didn't have that great of a game on Saturday despite the Blackhawks' offensive outburst against the Jets, only managing two shots on goal, but his play on Sunday more than made up for it as he picked up a goal and an assist in 21:30 of ice time.
His goal in the second period was a big tally for many reasons. Obviously, it gave the Hawks a 1-0 lead, but it also was a good way to prevent the team from being frustrated by their lack of success against Flames rookie Reto Berra. In the first period along the Flames goaltender had 18 saves, and was cruising along nicely in the second period until Kane grabbed the puck in the offensive zone.
On the play, Kane took the pass from Sheldon Brookbank, and skated along the blue line to try to look for an open passing or shooting lane. Not seeing one, as the Flames had made a habit of keeping those lanes well-stocked with bodies earlier in the game, Kane kept on skating up the blue line and turned back as he got to the boards. This finally got the Flames' defense moving, and Kane took full advantage, stepping up and unleashing a wicked wrist shot past Berra to give Chicago a 1-0 lead.
The play was a great mix of not only puck control by the talented Hawks' forward, but also an exercise in patience, as he didn't just try to force a shot on net after 26 minutes of frustrating failures by the offense to beat Berra.
Second Star: Marcus Kruger
One of the pleasant surprises of the weekend was the exceptional play of the Blackhawks' fourth line, which combined for five points in the team's victory over the Jets, and was very good in terms of maintaining strong puck possession and netfront presence in the loss to the Flames.
Arugably the biggest catalyst of that success was Kruger, and he excelled in more ways than one. Not only did he rack up two assists on Saturday afternoon, but he won 11 of the 15 face-offs that he took in the game. Not content to let that be a one time occasion, Kruger proceeded to win nine more draws on Sunday night, winning 69.2 percent of the face-offs he took.
Kruger's inability to win in the circle is likely one of the reasons why he hasn't been given a more thorough look as a potential second line center for the team, but he has been working really hard on his face-off ability this season, and the work is really beginning to pay off as of late. It will be interesting to see if he can continue that trend moving forward.
First Star: Brandon Bollig
Bollig surprised everyone when he scored the first goal of the season for the Blackhawks in their opener with the Washington Capitals, but he has been trying to prove that the first goal of his career wasn't a fluke, but rather an expression of his stated desire to add more dimensions to his game.
Over the weekend, Bollig continued to do that, scoring his second goal of the season and adding an assist on Saturday for the first multi-point game of his career. He followed that up with three more shots on goal in just 10:34 of ice time in Sunday's game against the Flames.
Joel Quenneville has been giving his bottom six forwards ample time on the ice lately, and their ability to get good offensive possessions generated, as well as their willingness to continue throwing their weight around and playing good defense, has meant that the team has been able to give a bit of a rest to their main forwards.
That ability to roll four lines is one that not many teams have, and it's the effort of guys like Bollig that is making it possible.