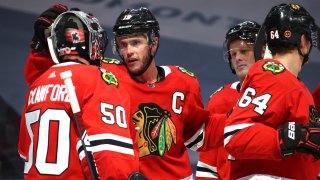 Corey Crawford stood on his head in one of his best ever playoff games, and the Chicago Blackhawks got just enough offense to beat the Vegas Golden Knights on Sunday night.
Drake Caggiula and Matthew Highmore both scored goals for the Blackhawks, and Alex DeBrincat added an empty netter late to seal the victory.
Shea Theodore scored the lone goal of the game for Vegas, who outshot the Blackhawks 47-25 but still lost for the first time in the postseason as the Blackhawks extended the series.
Crawford had an incredible game for Chicago, stopping 46 of the 47 shots that he faced in order to extend his team's season.
The Blackhawks have trailed in every game of the series so far, but that all changed early in Game 4 as they scored early to take the lead. After an errant pass into the corner, defenseman Olli Maatta grabbed the puck and fired a perfect pass to Caggiula, who unleashed a one-timer that beat Robin Lehner and put Chicago in front 1-0.
Despite Vegas' strong attempts to tie the game up, the Blackhawks were able to score the next goal thanks to an unbelievable shot from Highmore. The young forward, standing below the goal line, fired a shot toward Lehner's back, and the puck bounced off the netminder and into the top corner of the cage to extend Chicago's lead to 2-0.
From there, it was the Crawford show. After giving up a goal to Shea Theodore to make it 2-1, the Blackhawks' veteran netminder slammed the door the rest of the way, stopping every shot he faced and controlling rebounds better than he had in any other game of these playoffs.
The Blackhawks finally iced the game late in the contest, with DeBrincat scoring his first goal of the series, an empty-net tally to put the Blackhawks into the win column.
Game 5 of the series will take place Tuesday night, with puck drop set for 9:30 p.m. as the Blackhawks will look to stay alive for a second straight night.