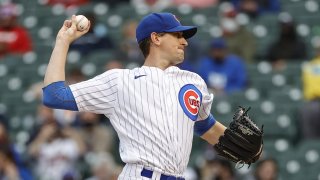 Cubs' 'taxed' bullpen needs Hendricks to be stopper originally appeared on NBC Sports Chicago
The Cubs anticipated the strain on their relievers.
So, they recalled starter Cory Abbott from Triple-A Iowa to give them multiple innings out of the bullpen. That's exactly what he did in a 4-3 loss Saturday at San Francisco. But one roster move doesn't erase the effect of a string of short starts.
"When we fall behind early, or get in some traffic and are not able to get out of that, it just taxes the bullpen at some point," Cubs manager David Ross said Saturday night. "And I think that's where we're at right now."
After three straight starts of fewer than five innings, and a corresponding losing streak, on Sunday the Cubs need Kyle Hendricks to pitch deep. In the final game of the four-game series, a strong start from Hendricks is the first step to avoiding a sweep. In the first week of a staunch June schedule, Hendricks has the chance to prove he can be the Cubs' stopper.
"The biggest indicator of successes is the next-day starter," Cubs right-hander Jake Arrieta said last week. "So, if you get good starting pitching, you give your team a chance to win."
In the past three games, including Arrieta's latest start, Cubs starters have posted an 11.70 ERA (13 earned runs in 10 innings).
First, right-hander Zach Davies was charged with four runs in 4 1/3 innings in a 7-2 loss to open the series. Then Arrieta, who said he threw up before and after his start Friday, left the game after giving up six runs in the second inning of an 8-5 loss.
On Saturday, Kohl Stewart took the mound in his second big-league start of the year. The Cubs called him up last week when right-hander Trevor Williams (appendicitis) landed on the 10-day injured list.
"I just didn't have heater command today, and I couldn't get a feel for my sinker," Stewart said. "So, I ended up falling behind a lot, and guys made me pay for it."
Stewart fought through his control issued to give up just three runs, including a two-run homer. The Cubs still had a chance to win. They took advantage of the Giants' defensive errors and miscues in ninth inning to put the tying run in scoring position. But they stranded two baserunners.
More to the point, Stewart pitched 3 2/3 innings.
To put numbers to the bullpen's taxing workload this series: The Cubs have used eight relivers in the past three games. Seven of those eight have pitched more than one inning. Four have thrown in multiple games.
"You hate to send anybody out that's throwing well," Ross said of optioning Brad Wieck to Triple-A Iowa to make room for Abbott on Saturday. "Brad Wieck was throwing really good for us. But, with the situation we've been through, some short outings from the starters, we need some length down there and some protection on the backside. I think Cory gives us that."
Abbot threw two scoreless innings on Saturday. But the roster move was a band aid. Only a deep start from Hendricks on Sunday will begin to close the wound.
Copyright RSN