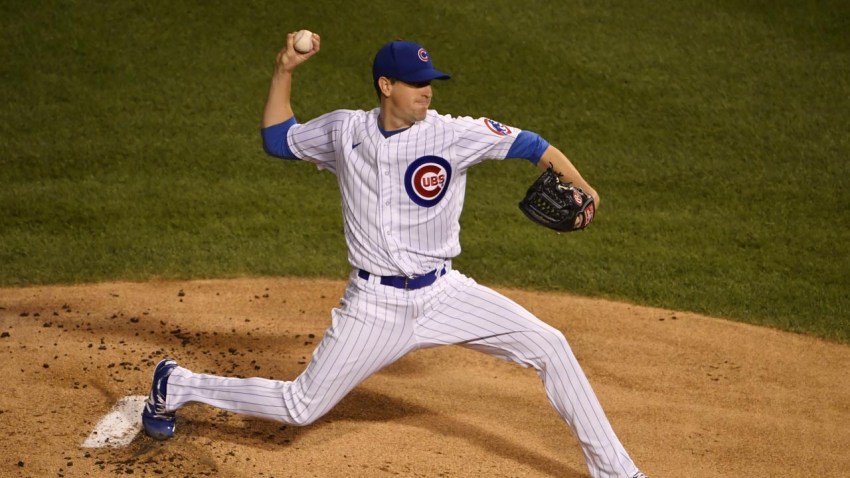 Quick takes: Hendricks' superb September continues originally appeared on NBC Sports Chicago
On a brisk night at Wrigley Field, it was Kyle Hendricks who cooled off the Twins' bats.
Hendricks pitched eight shutout innings, leading the Cubs to a 1-0 win. The Cubs needed that kind of performance from the right-hander, as former Cub Rich Hill and Minnesota's bullpen kept their bats at bay.
The Cubs haven't officially clinched a postseason spot yet, but with how Hendricks is rolling, along with Yu Darvish's Cy Young-caliber season, they appear well-positioned for a first-round, three-game series. 
Some quick takes from the game:
GLHOAT-ing
Prior to Friday's game, first baseman Anthony Rizzo spoke about the top of the Cubs lineup.
"We just want to continue to have good at-bats and continue to get the next guy on and give that guy an opportunity to drive runs in," he said.
Rizzo and the Cubs fulfilled that message to start the game Friday. Rizzo, the self-proclaimed greatest leadoff hitter of all-time, returned to the top spot as Ian Happ got the night off. He drew a walk in a seven-pitch plate appearance in the first inning. 
Like a true leadoff man, Rizzo then stole second, and after Kris Bryant walked, the GLHOAT came around on a single by No. 3 hitter Willson Contreras. That was the extent of the scoring for Friday's game.
Dancing in September
That lone run was all the Cubs needed thanks to Hendricks. In his eight shutout frames, he allowed three hits and a lone walk, striking out 10. After allowing a one-out single in the second inning, Hendricks retired 19 of 20 batters to end his night.
The outing continues a great month for Hendricks. In four starts, he's allowed four earned runs in 29 2/3 innings (1.21 ERA), striking out 27 compared to three walks.
For his career, Hendricks holds a 2.44 ERA in 35 September/October regular season starts.
Stay hot
With two singles and a walk, Contreras continued his hot month at the plate. The catcher is now slashing .368/.456/.474 in September.
Insult to injury
Cubs outfielder Kyle Schwarber appeared to reach base in the third inning, getting hit by a 2-2 curveball from Hill. But home plate umpire Angel Hernandez didn't award him the base, citing Schwarber leaning into the pitch.
The pitch was ruled a ball, and Schwarber struck out on the next one.
On Deck
The Cubs and Twins meet again on Saturday at 7:15 p.m. at Wrigley Field. Michael Pineda (1-0, 3.57) and Alec Mills (5-3, 3.93), fresh off his no-hitter, are the probable starters.
Copyright RSN