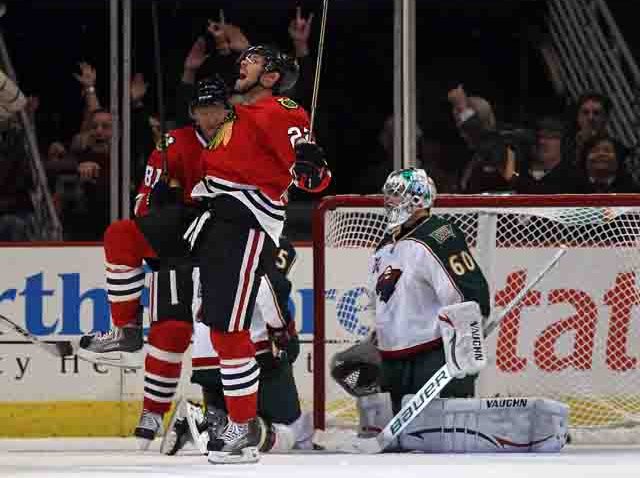 It wasn't really anything we'd hoped for other than the outcome and the points that come with it. But that's all that matters, right? This is America, damn it! It only matters what you win and receive and not how you get it!
The Hawks were flat for most of the first two periods last night, and I've made it quite clear the anathema I think using the word "flat" is. But they were. They were out-hustled to every loose puck, and didn't seem to want to engage physically. When they did muster anything resembling a scoring chance at even-strength, they showed the work eithic of a trust fund baby to get to the net and provide a screen or a tip. They were lucky to get out of the 1st period not trailing let alone with a lead.
But that all changed with about four minutes to go, when the Hawks sent out what is currently their hulking mass line (such as it is). The Hawks have three forwards with size who can provide some hitting and net-crashing, and they're all playing together. It would seem to defy logic, but last night it worked, and for now that's enough. Tomas Kopecky, Troy Brouwer, and Bryan Bickell created some energy out of nothing in the building, and the Hawks were a far better team to close out the game than they were to open it.
Even after seeing the game tied (once again while on the kill, isn't everybody sick of this song?), the Hawks were determined to get it back, and once they did they closed out a team like we haven't seen much of this year. Sure, it wasn't wrapped up until the empty-netter by Jake Dowell at the death, but the Wild were smothered for the last 10 minutes of the game. The Hawks got the puck deep, made them come 200 feet (which their defense is specifically not built for) and didn't allow anything in front of Corey Crawford. Shots were blocked and cleared. The Hawks didn't miss chances to get the puck out. This is how you win games late in the year, and they can certainly build off that.
Other Thoughts:
-For the first time, Dave Bolland as a scoring center looked promising. Though most of his good work came on the power play, it's a good first step. He was as effective as he's ever been last night in that role, working from the half-wall and setting up teammates. The dude has vision, and he's finally starting to use it.
-However, Bolland was still used to counter the Wild's top center in Mikko Koivu, as you can see here.
-If you're new to the team, that's what Marian Hossa is supposed to look like, just with goals.
-If you check out these shift charts, you'll see that in the 3rd period the Hawks basically went with four defensemen, leaving Nick Leddy and Jordan Hendry to stop and ponder the mysteries of life. This is probably the way to do things, but with his early season workload and his season-long buffoonery, you wonder how much Duncan Keith, and we, can take.
-Troy Brouwer is the most underappreciated player on this team, by some distance.
Much work left to be done, and however the previous workload got done, it was successful. We'll settle for that gladly.