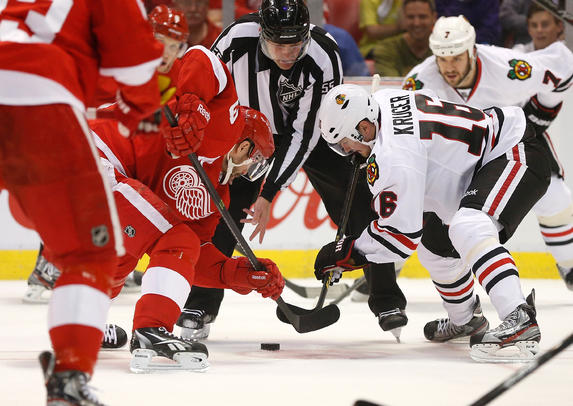 This week on Madhouse Enforcer, we will be taking a look at five key players for the Chicago Blackhawks as they attempt to become the first team to repeat as Stanley Cup champions since the 1997-98 Detroit Red Wings.

Our first key player today is forward Marcus Kruger.
A season ago, the Blackhawks surprised a lot of observers when they chose Marcus Kruger and Michael Frolik to man their top penalty killing line. The duo had some experience in the area, but were lagging in playing time behind guys like Jonathan Toews, Marian Hossa, and Dave Bolland.
During the beginning of the 2013 campaign though, a perfect storm of events led to the Hawks' decision to promote the duo. Bolland moved up to the team's second line, so head coach Joel Quenneville trimmed down his minutes on the penalty kill. Jamal Mayers, who matched Kruger in 2011-12 with an average of 1:20 of PK time per game, found himself in Quenneville's doghouse and wasn't in the lineup most nights. Even Toews and Hossa were given a smaller workload and were bumped down to second-string duty on the PK.
With that blend of factors, Kruger and Frolik came out and set the league on fire. They were the top two forwards in terms of time on ice short-handed, with both playing well over two minutes per night on the PK unit. They were wildly successful too, with the Hawks finishing third in the NHL in successful penalty kills with an 87 percent success rate. That success continued into the playoffs, with the Hawks killing off 90.8 percent of the power plays they faced, only allowing seven power play goals in 76 attempts.
This season, things will be a bit different however. Frolik was dealt over the summer in a draft day swap with the Winnipeg Jets, and it doesn't appear as though Toews or Hossa will resume their bigger workloads on the penalty killing side of things. That means that Kruger will have a new linemate in those situations, and it's unclear as to who that will be.
His spot in the Hawks' regular line rotation is also up in the air. Speculation is that he will begin the season not at the center position he has occupied for most of his NHL career, but rather at the wing spot on the fourth line, with Michal Handzus likely stepping in to play the center spot. Kruger's poor play in the face-off dot (he had a 46.2 percent success rate last year) is a possible reason for that, but the more likely reason is that Quenneville wants to keep Handzus in the lineup for defensive purposes, and Kruger has a lot more speed to deploy at wing than the aging veteran would.
All of these changes for Kruger lead to a single fundamental question as he heads into the first year of the new two-year pact that he inked with the club during the offseason: how will he adjust to all of these new challenges? The answer to that question is unknown at this point, but he does have some things working in his favor.
For starters, if the player who replaces Frolik is a guy like Ben Smith or Jeremy Morin, then Kruger should get along with those guys just fine. They play a similar game to Frolik, and although they don't have much experience playing in the NHL, they have a critical skill that should help them in the transition to full-time PK work: they are hungry. They both are eager to prove that they belong
at this level, and like Kruger and Frolik did when challenged to earn their playing time, they are seemingly willing to play ball with Quenneville in order to gain favor with him, and the playing time that accompanies it.
Kruger could also see benefits of moving to wing on the fourth line if he is paired up with one of those dynamic young forwards like Morin or Jimmy Hayes. Having another player on the ice who is capable of producing offensively will help boost Kruger's scoring levels, and even though he still will start the vast majority of his shifts in defensive situations (he started only 39.8 percent of his shifts in the offensive zone last year, dead last on the Hawks by a mile), his numbers should rise a bit with a new partner.
Ultimately, Kruger's adjustments will not necessarily be make or break items by themselves, but their collective impact on the team will be huge. If he can make his new penalty killing arrangement work, and if he can take to the wing position with a minimum of growing pains, then the Hawks should continue to see great successes in those areas of the ice, and help their championship aspirations in the process.