Gerald Hamilton had never been able to celebrate his birthday with friends because brain complications have required him to have numerous surgeries throughout his young life. But for his ninth birthday, he finally had the chance.
Gerald, who is from Lake Station, Indiana, invited 30 classmates to a party last month and 12 kids RSVP'd they would attend. But when the day came, no one showed up.
"At 5:00 p.m. he was still sitting there not wanting to cut his cake because one person might show up," Gerald's grandmother, Amelia Lara wrote on Facebook.

Lara explained that Gerald, who is in the second grade, has had at least five skull expansion surgeries and "is slower then [sic] the other kids in his class. However he is the kindest, most compassionate kid I know."
"When my daughter called the 12 parents to find out what was going on. Here is their response. My child can't play with yours he is just to [sic] different," she wrote. "How sad he is 9 he just wants to have friends."
I'm going to vent right now. My grandson who is in second grade and has had at least 5 skull expansion surgeries, is...

Posted by Amelia Lara on Monday, April 4, 2016
That's when Lara posted a plea for help, asking her social media friends to send cards to the little boy for his birthday. But the family got much more than they ever expected.
Lara told TODAY.com she woke up the next morning to a package at her front door, and the letters have continued to pour in ever since. Her post has been shared on Facebook more 3,400 times.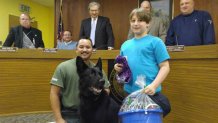 After news of the letters got out, Gerald was invited to a city council meeting, where he was given a surprise birthday party filled with gifts and a K-9 dog to play with.
"He was really sad the day of his party, but now says he finally feels like it's his birthday because he's getting cards," Lara told TODAY. "I'm happy that we can show him that not everyone is bad and that there are some people out there with genuinely good hearts."