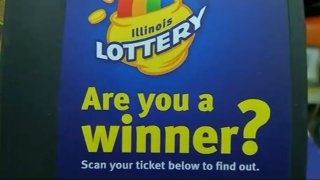 This little town on the Illinois River may only have a population of around 5,000, but a gas station there sold a very big lottery ticket Saturday night.
Huge, in fact: According to a press release from the Illinois Lottery, a $1 million wining Powerball ticket for Saturday night's drawing was sold at the Circle K at 291 Main St. in Marseilles, Illinois.
The winning ticket matched all five numbers to win the jackpot: 15-21-32-62-65.
"Marseilles is a small town, everyone knows everyone, and the people that shop at our store are regular customers," Circle K manager Natasha Tyssen said. That's why I think the winner is someone from our home town, at least I hope so."
As the retailer of the Powerball ticket, the win also means that the gas station and convenience store in Marseilles will receive a bonus of 1 percent of the prize amount. In this case, that amounts to $10,000.
The winner is now the 13th Illinois Lottery player who has won a prize of $1 million or more with Powerball since January of 2021.
The next Powerball drawing is Monday, April 18, with a jackpot of $348 million on the line.