As an actor, "This Is Us" star Justin Hartley knew his career would bring him to Los Angeles or New York City, but there's one city he'd rather live in – Chicago.
"The only reason I probably don't live in Chicago now is just because of what I do for a living," Hartley told NBC 5 in an interview Tuesday.
Hartley, who grew up in a suburb of the city and attended college at University of Illinois Chicago, said he most misses Chicago-style pizza, which he admittedly even has shipped to him to quench his cravings.
"I can probably finish an entire Lou Malnati's deep dish pizza," he said.
But in addition to his love for the obvious, Hartley cited a more unexpected reason for missing his former hometown – the weather.
"Spring, summer in Chicago is unparalleled on planet Earth," the Orland Park native said.
That said, if there's one piece of advice he has for the city, it's that "sometimes people need to calm down a little and relax and not get so angry."
Hartley plays Kevin Pearson on the hit NBC show "This Is Us," which just wrapped up its emotional first season. But he and co-star Chrissy Metz, who plays his twin sister Kate on the show, say it's not just a tear-jerker for the fans, it's also emotional for the cast.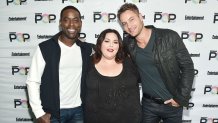 "There were scenes where [Sterling K. Brown] found out about the adoption and how Rebecca brought him into their lives and everything. I remember just coming onto my cue and I'm in tears," Metz said.
"You fall in love with these character as well," Hartley added.
Behind the scenes, Metz revealed that Brown and Hartley have somewhat of a "bromance" on set.
"Sterling and Justin have a bit of an alpha male thing, doing push-ups and stuff," she said. "It's so fun and it's like a little bromance -- a friendship and brotherhood."
She also said Milo Ventimiglia, who plays father Jack Pearson on the show, "is captain of the ship" and "takes care of everyone," similar to his character.
As for Metz, her favorite moment on the show's first season was when Hartley's character, who starred in a show called "The Manny," had what would become a viral meltdown on set.
For fans left with questions after the season one finale, Metz said season two won't disappoint.
"There's going to be some questions that you're actually going to get answers to that you might not have felt fulfilled," she said, hinting at answers surrounding Jack's journey and possibly revealing how Rebecca and Miguel's relationship sparked.
Those who haven't seen the show yet can still binge-watch it before it goes away. The entire season will be available during Xfinity's Watchathon Week from April 3-9.