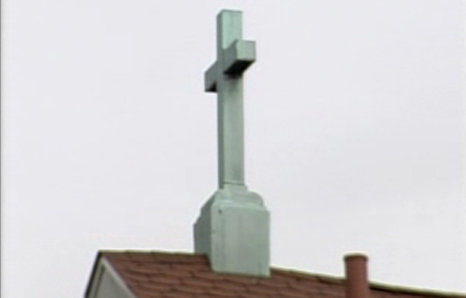 One person is dead and at least two others injured when a gunman opens fire in a downstate church Sunday morning.
A hospital official said Pastor Fred Winters of the First Baptist Church in downstate Maryville died this morning after a gunman opened fire at the church, the St. Louis Post-Dispatch is reporting on its Web site.
Illinois Master Trooper Ralph Timmins said the man walked down the aisle shortly after 8 a.m. during the early Sunday service, the Chicago Tribune reported.
Timmins said the man exchanged words with pastor Fred Winters before pulling out a .45-caliber handgun and firing a single fatal shot at the pastor. The man fired only once before the gun jammed, the paper said.
The trooper says the man then pulled out a knife and began wounding himself. Churchgoers tried to subdue him and two received minor injuries.
Timmins says officials don't know if Winters and the suspect know each other.
"We don't know the relationship (between the gunman and pastor), why he's here or what circumstances came about that caused him in the first place to be here," The Tribune quotes Timmins as saying.
Winters was shot dead in front of church-goers, according to news blogger Michael Crook. Crook also reports that four others were shot in the incident. Fox News is reporting four hurt and one dead, as well.
Natalie Head of Anderson Hospital in an Illinois suburb of St. Louis, said two victims were transferred from First Maryville Baptist Church after the shooting.
Illinois State Police Lt. Scott Compton confirmed that there was a shooting at the church in Maryville.
The St. Louis Post-Dispatch says the suspected attacker is in custody.
Maryville is about 20 miles northeast of St. Louis.
Copyright AP - Associated Press