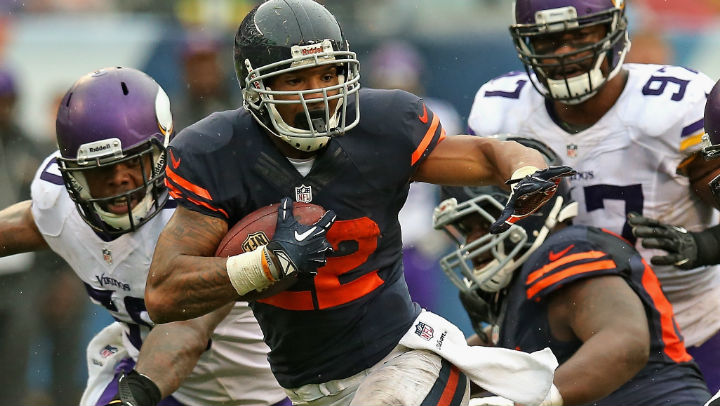 The Chicago Bears face off against the Minnesota Vikings Sunday afternoon. Are you watching the game?
We want to hear your thoughts on the game. We'll be posting questions, comments and updates on our Facebook and Twitter pages.
Share your predictions, comments and reactions on here or our posts below. We may even feature some of the best comments on our Sports Sunday newscast.
(function(d, s, id) { var js, fjs = d.getElementsByTagName(s)[0]; if (d.getElementById(id)) return; js = d.createElement(s); js.id = id; js.src = "//connect.facebook.net/en_US/all.js#xfbml=1"; fjs.parentNode.insertBefore(js, fjs); }(document, 'script', 'facebook-jssdk'));
#Bears @MartysaurusRex pulls down 16 yd Touchdown with ;10 left in game to take 1 pt lead. His 2nd of game — Peggy Kusinski (@peggykusinski) September 15, 2013
#Bears 4th turnover, Forte fumbles at the 48 yd line, #Vikings recover. This may be the difference if MN runs out final 6 1/2 min on clock — Peggy Kusinski (@peggykusinski) September 15, 2013
#Vikings Walsh 28 yd FG gives Minnesota back the lead 27-24 over #Bears with 8:05 left in 4Q — Peggy Kusinski (@peggykusinski) September 15, 2013
#Bears 3rd turnover, all at the hands of Cutler, his 2nd interception intended for Marshall picked off by #Vikings Smith — Peggy Kusinski (@peggykusinski) September 15, 2013
Matt Forte has 144 all-purpose yards. Could he crack the 200 mark today? Our live blog is still going strong http://t.co/Sg7rI0IQhh #Bears — Grizzly Detail (@Grizzly_Detail) September 15, 2013
(function(d, s, id) { var js, fjs = d.getElementsByTagName(s)[0]; if (d.getElementById(id)) return; js = d.createElement(s); js.id = id; js.src = "//connect.facebook.net/en_US/all.js#xfbml=1"; fjs.parentNode.insertBefore(js, fjs); }(document, 'script', 'facebook-jssdk'));
#Vikings field goal is good, and for the 4th time (besides 0-0) the #Bears & Vikes are tied. 24-24 3Q — Peggy Kusinski (@peggykusinski) September 15, 2013
Obviously, #Bears fans will be disappointed in that ruling, but it was the right call. Receiver never had clear possession. — Grizzly Detail (@Grizzly_Detail) September 15, 2013
Fumble overturned under review #Vikings Wright never had possession. MN with a 28 yd FGA — Peggy Kusinski (@peggykusinski) September 15, 2013
#Vikings @adrianpeterson fumbles (@BIGN98) 3Q, #Bears @CoreyWootton recovers. 2 turnovers each team so far. — Peggy Kusinski (@peggykusinski) September 15, 2013
Cutler took a big shot in the backfield. Offensive line protections haven't looked good on the last few drives. — Grizzly Detail (@Grizzly_Detail) September 15, 2013
HF stats: #Vikings @AdrianPeterson 11 carries for 63 yards; #Bears @MattForte22 14 carries for 75 yds, — Peggy Kusinski (@peggykusinski) September 15, 2013
(function(d, s, id) { var js, fjs = d.getElementsByTagName(s)[0]; if (d.getElementById(id)) return; js = d.createElement(s); js.id = id; js.src = "//connect.facebook.net/en_US/all.js#xfbml=1"; fjs.parentNode.insertBefore(js, fjs); }(document, 'script', 'facebook-jssdk'));
#Bears defense answers #Vikings D. @HennOrJenn26 intercepts Ponder & returns 44 yards for a Chicago Defensive TD. 21-14 Chgo — Peggy Kusinski (@peggykusinski) September 15, 2013
#Bears Cutler picked off on 1st & goal from 1 yard line, pass tipped in endzone, #Vikings Williams intercepts. 2nd turnover Cutler — Peggy Kusinski (@peggykusinski) September 15, 2013

#Bears with a couple of banged up players on the defensive side of the ball. Tillman shaken up in first quarter, and Wright as well. — Grizzly Detail (@Grizzly_Detail) September 15, 2013

#Vikings Jared Allen Sacks #Bears Cutler, Fumble, #Vikings Robison recovers & returns 61 yards for MN defensive touchdown ties it 14-14 — Peggy Kusinski (@peggykusinski) September 15, 2013

(function(d, s, id) { var js, fjs = d.getElementsByTagName(s)[0]; if (d.getElementById(id)) return; js = d.createElement(s); js.id = id; js.src = "//connect.facebook.net/en_US/all.js#xfbml=1"; fjs.parentNode.insertBefore(js, fjs); }(document, 'script', 'facebook-jssdk'));

1Q stats: #Bears Cutler 6/7=64 yds, 2 TD for 144.3 passer rating. #Vikings Ponder 2/6=31 yds, 0 TD, 0 INT, 51.4 passer rating; AP 9 yds — Peggy Kusinski (@peggykusinski) September 15, 2013
Another TD for @BMarshall and you'll see him break it all down tonight on #NBC5SS after @SNFonNBC — NBC Chicago (@nbcchicago) September 15, 2013
(function(d, s, id) { var js, fjs = d.getElementsByTagName(s)[0]; if (d.getElementById(id)) return; js = d.createElement(s); js.id = id; js.src = "//connect.facebook.net/en_US/all.js#xfbml=1"; fjs.parentNode.insertBefore(js, fjs); }(document, 'script', 'facebook-jssdk'));
How the Bears Plan to Stop Adrian Peterson http://t.co/fIVkfTYKdZ — Grizzly Detail (@Grizzly_Detail) September 15, 2013
(function(d, s, id) { var js, fjs = d.getElementsByTagName(s)[0]; if (d.getElementById(id)) return; js = d.createElement(s); js.id = id; js.src = "//connect.facebook.net/en_US/all.js#xfbml=1"; fjs.parentNode.insertBefore(js, fjs); }(document, 'script', 'facebook-jssdk'));
(function(d, s, id) { var js, fjs = d.getElementsByTagName(s)[0]; if (d.getElementById(id)) return; js = d.createElement(s); js.id = id; js.src = "//connect.facebook.net/en_US/all.js#xfbml=1"; fjs.parentNode.insertBefore(js, fjs); }(document, 'script', 'facebook-jssdk'));