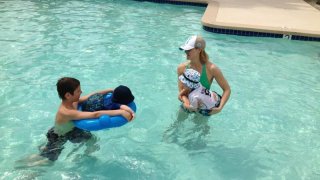 Indoor pools citywide closed Wednesday for the summer, the Chicago Park District announced, after being opened with restrictions during the coronavirus pandemic.
The pools housed indoors, like at Welles Park, Ellis Park and Portage Park, closed "to allow for the reopening of outdoor pools," which are set to reopen Friday.
Across the city, Chicago operates 49 outdoor pools, as well as 28 indoor pools, some of which have already been open under enhanced guidelines due to the pandemic.
Indoor pools were serving residents using COVID-19 mitigations like signing up in advance to swim laps, social distancing while in the water and wearing face coverings in public areas.
When outdoor pools open Friday, facilities will have a 50% or 100-person capacity and a face covering requirement while not in the water and unable to social distance, according to the park district.
Pool entry and lap swimming will be granted on a first come-first served basis, the park district said.
Here's when outdoor Chicago pools are open.
For those looking for summer jobs as lifeguards, the park district extended their application period date to July 4 as they try to get more employees.
Lifeguards hired by the Chicago Park District must possess the following current certifications:
American Red Cross Lifeguarding / First Aid / CPR / AED (or equivalent)
American Red Cross Waterfront Skills (or equivalent)
American Red Cross Administering Emergency Oxygen (or equivalent)
Chicago Park District Lifeguard Certification (awarded at completion of the swim test)
Lifeguards must also have knowledge of lifesaving and lifeguarding methods and techniques. They must have the ability to meet and deal with the public, ability to swim and dive proficiently and ability to administer first aid and CPR to victims needing such attention.
Lifeguards hired by the Chicago Park District must demonstrate that they possess the physical ability that is required for the job through multiple swimming tests.
For more information, visit here.