A woman discovered a homemade bomb while cleaning trash along a road in northwest Indiana Monday, authorities said.
The woman was cleaning litter from a ditch along Welnetz Road when she found what she believed to be a homemade firework, according to the LaPorte County Sheriff's Office.
She took the firework to her home in the 600 block of Longwood Drive, just outside of Michigan City, where a sheriff's deputy determined it was an IED and evacuated the immediate area.
The device was made of two mason jars filled with a flammable liquid, authorities said. Each jar contained a pipe bomb and both devices were connected together with a fuse.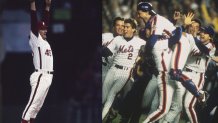 The Porter County Sheriff's Bomb Squad was called to the scene and bomb technicians moved the device to a containment trailer. It was then transported to a nearby field where it was "safely detonated," officials said.
Porter County Bomb Squad team leader, Captain Larry Sheets, told investigators at the scene "the device was made to be destructive or to injure someone and was considered very dangerous," the LaPorte County Sheriff's office said.
An investigation into who may have made the device remained ongoing Tuesday.