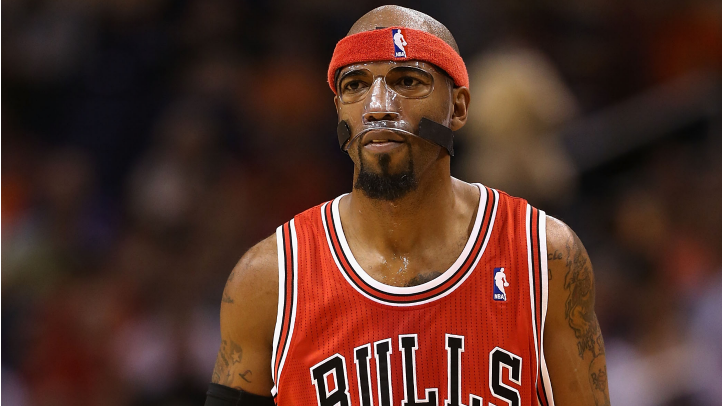 The Rip Hamilton experiment didn't go quite as well as people had hoped, particularly the Chicago Bulls' front office. With the team desperately in need of a shooting guard at the time, fans balked at the signing of the aging guard while management clearly had visions of Derrick Rose and Rip Hamilton, who was an All-Star and won a championship while in Detroit, streaking down the court together and being a fast break nightmare for the opposition.
Unfortunately, we only got to see that a few times as injuries hampered Rose and Hamilton the last two seasons.
Branded a malcontent while in Detroit, Rip Hamilton was a model citizen in Chicago. He just couldn't stay healthy enough to make a real impact. In his first season, he missed 38 of the Bulls' 66 games, and this season, he appeared in 50 games, missing 32 with a variety of different ailments.
Late in the season and going into the playoffs, Hamilton was pulled from the rotation completely and spent a lot of time on the bench as a spectator. And in the playoffs, Hamilton appeared in just four of Chicago's 12 postseason games.
He logged a total of 10 scoreless minutes on the court in the two games he played in the series against the Brooklyn Nets but was much more impactful in his two games in the Miami Heat series. Hamilton said he was healthy and ready to contribute, but Tom Thibodeau obviously didn't feel that way and seemed to play Hamilton because he just didn't have anyone left in the series against the Heat.
Through it all, Hamilton never complained or made waves, he just waited for his opportunity. It's unlikely he'll return to the Bulls next season and it's a shame that injuries, age and attrition have diminished his game the way that it has.
But if we're being honest, Rip Hamilton was never a factor in Chicago, plain and simple. And even though he feels he still has more to give to the game of basketball, he just wasn't able to give it to the Bulls.
Grade: D-
Normal 0 false false false EN-US JA X-NONE /* Style Definitions */ table.MsoNormalTable {mso-style-name:"Table Normal"; mso-tstyle-rowband-size:0; mso-tstyle-colband-size:0; mso-style-noshow:yes; mso-style-priority:99; mso-style-parent:""; mso-padding-alt:0in 5.4pt 0in 5.4pt; mso-para-margin:0in; mso-para-margin-bottom:.0001pt; mso-pagination:widow-orphan; font-size:12.0pt; font-family:Cambria; mso-ascii-font-family:Cambria; mso-ascii-theme-font:minor-latin; mso-hansi-font-family:Cambria; mso-hansi-theme-font:minor-latin;} Follow Outside Shot on Twitter (@Outside_Shot) for more Bulls news and information