As an Illinois state representative takes Governor J.B. Pritzker to court, challenging the governor's stay-at-home order, an analysis by NBC 5 Investigates suggests that the representative's own district is not ready to reopen, according to guidelines set out by the federal government.
Rep. John Cabello, of Machesney Park, which is near Rockford, filed suit this week, challenging the constitutionality of the governor's stay-at-home order, and suggesting the Illinois General Assembly should meet to define the rules going forward.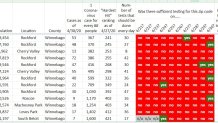 "What we want is we want common sense solutions to this problem," Cabello told NBC 5.  "And we want every voice heard, not just his!"
But according to the guidelines set up by the White House calling for a 14-day downward trajectory of virus cases, Rep. Cabello's home district does not appear close to reopening.
Winnebago County's slope of new cases not only isn't flattening, it's getting steeper. The Illinois Department of Public Health said the county has 442 cases.
At a time when the day-to-day totals should be dropping, the county had 50 new cases today alone, its highest day by far in a single day.
Winnebago has had 11 fatalities, and seven of those have come in just the last ten days. But Cabello argues those numbers may not present a true picture of what is happening in his home community today.
"I would respectfully submit that we just started ramping up the testing," he told NBC 5. "They just opened testing sites that can test 500 people at a time."
That's an argument that some experts have advocated as well, that as testing became more aggressive, the numbers would go up. Cabello likewise cites lags in testing results, which he argues could mean the high numbers today actually reflect the situation in his home county as long as ten days ago.
"We're now at a point where they can test more people in one day," he said. "So the numbers are going to be all over the place for a little bit."
But even testing in Rep. Cabello's district lags behind a benchmark goal which is being used nationwide.
NBC 5 Investigates looked, specifically, at the testing done in the 13 zip codes in Winnebago County, including Rep. Cabello's hometown of Machesney Park.
We compared the actual tests reported to the state over each of the past ten days, in each zip code, to the amount of tests that Harvard University experts say should be done every day, if officials aim to re-open a community. And we found there was enough testing reported in Winnebago County, only six percent of the time.
For example, it's recommended that at least 34 Machesney Park residents get a coronavirus test, each day. But we found that never happened in any of the past ten days. Today, for example, the state reported that only 18 Machesney Park residents had been tested in the last 24 hours, barely half of the minimum recommended.
Rep. Cabello contends some of those who have died, might have died had there been no pandemic at all.
"Many of those people were in hospice with weeks to live, dying of cancer," he said. "There was an outbreak of COVID-19 at one of our long-term care facilities, and at least four of them that were registered that passed away were in hospice."
Cabello argues that it's critical for so-called "mom and pop" stores to start getting the same breaks of big-box retailers, especially if they take the same precautions those stores are using. And he predicted enforcement of the governor's order is going to grow harder by the day as spring-like temperatures finally arrive.
"Starting as soon as the weather breaks, you're going to see a lot of people not following these orders," he said. "And a lot of these orders make no sense whatsoever."