Chicago's annual homicide number has climbed above 600 for only the second time in more than a decade.
Three people fatally shot over the last two days brought the city's total number of homicides for 2017 over the grim threshold, according to data from the Chicago Tribune and police department.
The latest fatal shooting happened Tuesday evening, when three people were shot on the city's West Side. The group was in the 500 block of South Lockwood just after 5 p.m. when they said a light-colored vehicle pulled up and someone inside it opened fire, according to authorities.
A 25-year-old man was shot multiple times in the head and pronounced dead at the scene. A second person, a 32-year-old man, suffered wounds to the groin and buttocks and was taken in stable condition to Stroger Hospital. A 28-year-old man also suffered a graze wound to the head and was in stable condition at Stroger Hospital.
On Monday, two others were killed, including a teen boy.
Tribune data puts the city's tally at 602 homicides since Jan. 1.
That number is lower than the 590 murders the Chicago Police Department says has been recorded for the year so far, though the department's statistics don't include killings on area expressways, police-involved shootings, self-defense killings or death investigations.
Illinois State Police said there have been 23 confirmed shootings on area expressways this year, one of which was fatal.
While the total number of homicides is lower than the city had at this time last year, it remains significantly higher than recent years.
This marks only the second time the city has crossed 600 homicides since 2003, according to data from the police department.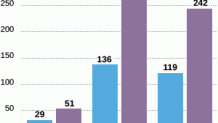 Last year, the nation's third largest city saw 762 homicides, the most in the last two decades and more than New York and Los Angeles combined.
That's compared to the 485 recorded citywide in 2015.
Recent months have seen a decline in the number of both shootings and murders compared to 2016, authorities said.
Shootings for the month of September declined by 15 percent and murders were down by 10 percent compared to the same month last year, according to statistics from CPD.
Still, over the last weekend alone, two people were killed and as many as 17 others wounded.