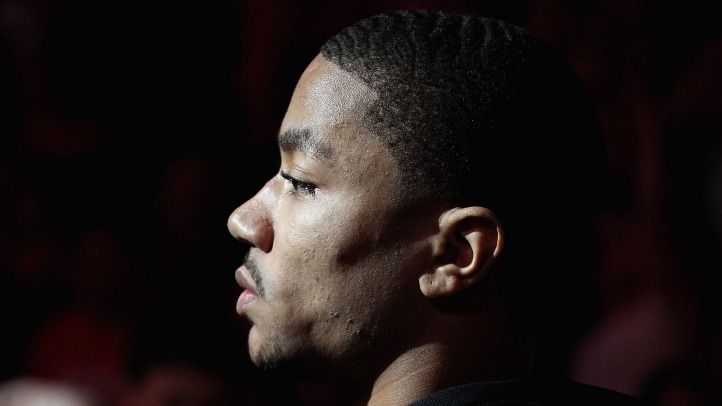 With each passing game, the criticism lobbed at Derrick Rose for not suiting up and playing grows. Whether it be via Facebook, Twitter, open letters or criticism from TV analysts, D. Rose just can't seem to get a fair call on the court of public opinion.
But despite all of the noise and chatter on the outside, inside the Bulls organization, there is undying support from those who know him best.
"It has been a very difficult year for Derrick," Bulls guard Kirk Hinrich said in a recent Chicago Tribune interview. "I've never experienced any sort of injury like that. I'm not one to speak on how anybody else's body feels. We know what kind of guy he is and what kind of teammate he is. … You give a guy who has that type of character the benefit of the doubt. We know that he's such a big part of this organization and this team that we trust he's making the right decision for that and for himself."
Except there has been a profound disconnect among fans between Rose doing what's best for himself (and his career) and what's best for the team. And no Rose criticism conversation would be complete without comparing him to players who have either been injured or are currently injured, but still playing – despite the fact that no two injuries (or players) are the same.
"There is a big difference between the type of injury that he has had and all these other injuries. And we certainly appreciate what all the other guys are doing, but Derrick has had a very serious injury. It requires time. He's 24 years old. We're not going to rush him back," opined Tom Thibodeau.
"When he's completely comfortable, that's when we want him out there. If that means we wait another game, if that means we wait until next year, so be it. We want him completely comfortable and we're not going to make that mistake.
"Derrick owes it to himself to do what's right and the more I'm around him, the more I'm impressed with this guy's character. He's not being swayed by anybody. I would never question him, ever."
Normal 0 false false false EN-US JA X-NONE /* Style Definitions */ table.MsoNormalTable {mso-style-name:"Table Normal"; mso-tstyle-rowband-size:0; mso-tstyle-colband-size:0; mso-style-noshow:yes; mso-style-priority:99; mso-style-parent:""; mso-padding-alt:0in 5.4pt 0in 5.4pt; mso-para-margin:0in; mso-para-margin-bottom:.0001pt; mso-pagination:widow-orphan; font-size:12.0pt; font-family:Cambria; mso-ascii-font-family:Cambria; mso-ascii-theme-font:minor-latin; mso-hansi-font-family:Cambria; mso-hansi-theme-font:minor-latin;} Follow Outside Shot on Twitter (@Outside_Shot) for more Bulls news and information