It is officially April 1, notoriously known as a time for bad jokes, pranks and fools. It's a day where truth and ridiculously annoying (and occasionally funny) fiction collide.
With each passing April Fools' Day comes a new round of creative pranksters hoping to one-up the competition, but some jokes will inevitably leave many questioning why the day of tricks is still a thing.
Here are a few of the best and worst pranks from around the web this year:
Groupon Launches Grøüber
Groupon took the more obvious route when it came to their April Fools' joke, announcing the launch of Grøüber, a transportation service with cats for drivers. Essentially Uber with feline drivers, Grøüber uses red lasers as a GPS for the four-legged friends behind the wheel.
Rdio Releases Cat-Owned Streaming Service
Not one to be outdone in the cat-themed April Fools' pranks, Rdio launched the first-ever cat-owned global streaming service. The Rdio-Meowz and the "Meow Mix" station was reportedly founded by Grumpy Cat, Lil Bub, Piano Cat, I Can Has Cheezburger cat, Maru, and Nyan Cat, which apparently felt cats were misrepresented in the music world.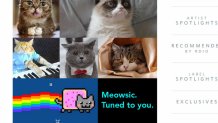 Backwards Google
Type com.google and everything appears backwards.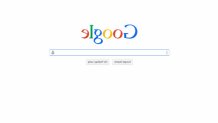 Retro Amazon
Amazon's homepage went retro for the day, offering things like whoopee cushions and books on cubicle warfare. The site also lists Chain of Fools by Aretha Franklin as the day's music top seller.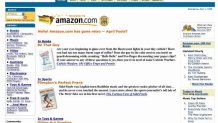 Honda Releases HR-V Selfie Edition
In the spirit of the selfie sensation, Honda announced the release of the HR-V Selfie Edition, a car with 10 cameras across the interior and exterior to allow drivers to snap self-portraits in their car.
Miz Mooz Debuts Selfie Shoes
Selfie Shoes--When your leg becomes a selfie stick. Miz Mooz released a new shoe that holds your phone so you can stick your leg out for a selfie.
Esurance to Develop New "Presurance"
Esurance, owned by Chicago-based Allstate, announced Wednesday plans to develop a new product called "Presurance," which alerts you seven days before your next "mishap."
"The future is literally in the palm of your hand," the company's website reads.
CERN Confirms Existence of The Force
CERN, the European Organization for Nuclear Research, announced in breaking news that researchers confirmed the existence of the Force. May the force be with you pranksters.
Google Maps Becomes Pac-Man
Forget the arcade. Google Maps has turned the streets of your neighborhood into a Pac-Man game of its own.
Find out how to play here.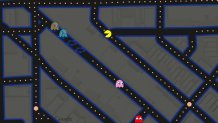 Microsoft Launches MS-DOS Mobile
Microsoft announced the launch of MS-DOS Mobile, a new OS designed for Lumia smartphones. "Black and white text has never looked so good," Tom Messett, marketer for Microsoft Lumia, said in a YouTube video about the new system.
Smartbox
In another Google prank, the company introduced the new Smartbox—a smart mailbox that combines email and snail mail together.
Samsung Releases Galaxy BLADE Edge
Samsung revealed its latest product-- the "smartknife." The "ultimate cooking companion" runs on the latest OS and comes with the features of a Galaxy S6, but its edge is so sharp and strong that it can also serve as a chef's knife.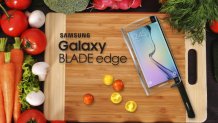 Motorola's #MotoSelfieStick
Motorola debuts handcarved wooden and handmade leather selfie sticks dubbed #MotoSelfieSticks.
"It's one of the most practical, useful accessories around," a woodcarver says in a YouTube video for the product. "It's like when the sun turns the rain into a rainbow."

[[298325461, C]]
Hinge Launches App for Toddlers
Hinge launched its latest app called Playdating, a new tool helping toddlers find play dates.