The young girl shot while playing outside on Chicago's Northwest Side earlier this week just wants to get back to her dance classes, her family said.
Jaylene Bermeo remains at John H. Stroger Jr. Hospital of Cook County, where she was taken in critical condition Monday with a gunshot wound to the chest.
"Thank you all for your thoughts and prayers as Jaylene recovers. We truly appreciate the support our family has received during this difficult time," the Bermeo family said in a statement. "Please keep the prayers coming for Jaylene's full recovery so she can get back to the dance classes she loves so much."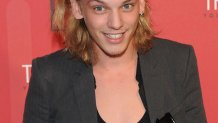 According to hospital officials, Jaylene is in "good condition and good spirits."
"She has a long but promising road to recovery ahead of her," the hospital said in a statement. "We hope to discharge her in a few days."
A 17-year-old boy has been charged in connection with the Northwest Side shooting.
Police said the male juvenile was identified as the person who drove up and shot the young girl in the back as she played outside at a party in the 2100 block of N Bingham in the city's Logan Square neighborhood.
The suspect was charged with one felony count of aggravated battery and discharge of a firearm, according to a release from the Chicago Police Department. Authorities said he was taken into custody Tuesday.
"It really hurts because there are so many innocent people that are just [enjoying the] nice, beautiful weather," said one witness, who wished to remain anonymous. "That's not fair. That's not fair for the kids. That's not fair for our neighborhood."
Authorities said Tuesday that Chicago police have responded to four calls at the home since last month. The calls range from shots fired to noise disturbances.
"The house is always reported at the CAPS meetings," said neighbor Joe Kopera. "They're always asking about it because it's been a continuous problem for years."
Bullet holes were seen in the front window of the home Tuesday. A man who lived inside declined to comment, but told NBC 5 the bullet holes were from a different shooting. He insisted the home is "not a gang house" like others are making it out to be.
In a statement, Ald. Joe Moreno said he has been working with police to address issues at the home "prior to this tragic incident."
Community members say regardless of the circumstances, someone must be held acccountable for the shoting.
"This baby is laying here in pain overnight, unimaginable pain," said activist Andrew Holmes. "I can't imagine the pain. Let's gives these individuals pain, let's bring them to justice."