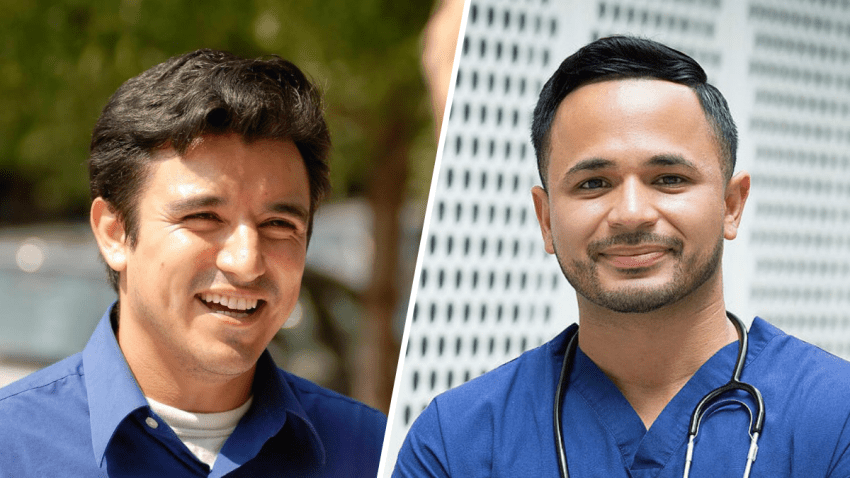 Byron Sigcho-Lopez prevailed in a heated race to replace 25th Ward Ald. Danny Solis.
Sigcho-Lopez defeated Alex Acevedo in the runoff election Tuesday night, earning 54 percent of the vote with 100 percent of precincts reporting, unofficial election results showed.
The two topped a field of five candidates in the Feb. 26 election to make the runoff.
Sigcho-Lopez is an educator and public policy researcher at the University of Illinois-Chicago, who has previously worked as the director of the Pilsen Alliance, an organization focused on social justice for working class and immigrant communities on the Lower West Side.
A Democratic Socialist, he was one of four candidates who previously challenged Solis in 2015, coming in second with 19 percent of the vote - falling about 80 votes short of forcing Solis into a runoff.
Acevedo is a registered nurse who previously worked as a community relations manager at Oak Street Health, a clinic for senior citizens. He is the son of former state Rep. Eddie Acevedo and unsuccessfully ran for his father's seat in the state legislature in 2016. Both candidates currently sit on local school councils for schools in the community.
This race was plagued by plenty of controversies, one of which was allegations of vote-buying.
On March 11, Acevedo said he identified workers for Sigcho-Lopez's campaign handing out gift cards on the Feb. 26 election day, with a Chinatown polling place official corroborating the accusation. Sigcho-Lopez categorically denied employing any vote-buying tactics and in turn accused Acevedo of a "desperate 11th hour attempt to mislead and distract voters."
The Chicago Board of Elections opened an investigation into the "extremely serious" vote-buying allegation and said it would devote "additional resources" to the ward for the runoff election.
The 25th Ward is no stranger to controversy. Solis has gone silent since late January, when the Chicago Sun-Times reported that he secretly recorded conversations with embattled Ald. Ed Burke as part of a criminal investigation that resulted in a charge of attempted extortion against Burke on Jan. 3.
Solis himself became the subject of a federal criminal investigation in 2014, according to a source familiar with the probe, which is why Solis cooperated in the investigation into Burke.
No charges have been filed against Solis, who resigned from his position as chair of the powerful City Council Committee on Zoning, Landmarks and Building Standards, which votes on where developers can build multi-million to multi-billion dollar projects across the city.
Solis has represented the ward since he was appointed in 1996, meaning this election will mark the first time in nearly a quarter-century that the 25th Ward - which includes parts of the Lower West Side, Pilsen, Greek Town, Chinatown and University Village neighborhoods - will have a new voice on City Council.
Sigcho-Lopez is also about half the age of 70-year-old Solis, meaning that the 25th Ward will also for the first time be represented by a millennial. Solis was a major flash-point in the race, as both candidates attempted to distance themselves from him and paint themselves as reformers.