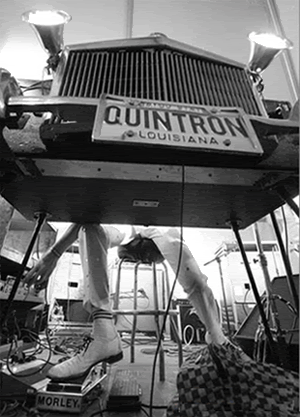 Dancing, chant-along choruses, girls shaking maracas, audience invasions by the performers -- and maybe even some dancing, singing, and maracas-shaking from atop the bar. All of that, plus a surreal puppet show to wrap things up. So it goes on an average night with Mr. Quintron and Miss Pussycat.
After nearly a decade of releasing records and building a small cult audience, the New Orleans-based Quintron rubbed shoulders with a broader audience in 2005 when his Swamp Tech LP was picked up for distro by Kid606's Tigerbeat6 label. Largely operating as a one-man band, Quintron's sound -- - roughly two parts psychobilly to one part juke-joint organ music -- has remained fairly consistent throughout the years. But 2008's Too Thirsty 4 Love LP found him expanding on his usual style and bringing some new moves to the floor.
Aside from the swells of gospel organ bouying Too Thirsty's title song, there's some hip-moving funk rhythms undergirding several of the new tunes. And hell-yeahs if the Drum BuddyTM doesn't bring some old-school hip-hop 808 kick on "Walk To The Harvest" and "Dirt Bag Fever." It's as if Quintron's taken a step closer to the ubiquitous r'n'b vibes of the Crescent City -- soaking up the influences and folding some of the grooves into his own music.
Mr. Quintron and Miss Pussycat play the Empty Bottle this Friday night. The ramshackle Columbus, OH noise-pop outfit Psychedelic Horseshit support, and Stranger Waves open. Showtime is at 10 PM, and tickets are $12.
[video]: Quintron & Miss Pussycat - live in Zagreb
[video]: Quintron & Miss Pussycat - "Freedom"
[mp3]: Quintron & Miss Pussycat - "The Boss Wants To Party With You"
Copyright Trans - Transmission