The woman at the controls of a Chicago Transit Authority train that crashed at O'Hare Airport had worked 69 hours in the seven days before the accident.
Brittney T. Haywood, 25, from Chicago, said she dozed off at the controls Monday when the train crashed into the terminal and rode up the escalator.
She suffered injuries to her legs, back and neck during the incident.
Haywood has not been charged with a crime in the train accident, but she has been charged with crimes in the past, including misdemeanor domestic battery in 2006, misdemeanor reckless conduct in 2008, misdemeanor domestic battery and damage to property in 2010, and misdemeanor gambling in 2013. In each case the charges were ultimately dismissed.
CTA Union Will Fight to Keep Train Operator's Job
The transit union that represents Haywood, and all motormen in the CTA, are not focused on potential criminal activity, but have trained their focus on working conditions.
Amalgamated Transit Union Local 308 president Robert Kelly held a news conference Friday and defended Haywood. He said she's what's called an extra board member, which means she fills in for other operators, taking on various shifts and hours in any given week.
Haywood's schedule changes every day and she calls in to find out about her next shift. She worked Saturday evening until 4:30 p.m. and started again Sunday at 8 p.m. During her 16-17 hour break she was dealing with personal issues, Kelly said, and had worked a 69 hour work week the week before. She has been working as a motorman for about 60 days, but started with the CTA last year as a flag man. Haywood works both types of jobs for the CTA, depending on manpower needs.
NTSB: Blue Line Train Operator Dozed Off Before Crash
Kelly said that Haywood's call-in status without a consistent work shift caused her to work "strange" hours, which was a factor in the crash.
But CTA officials accused Kelly of "providing false and misleading information in an effort to distort the truth and divert attention away from his union."
The CTA says the train operator worked 55 hours in the seven days preceding the incident, and was off for 18 hours prior to the shift when the incident occurred. Her longest shift was 9.2 hours, according to the union.
Train's Operator Admits Falling Asleep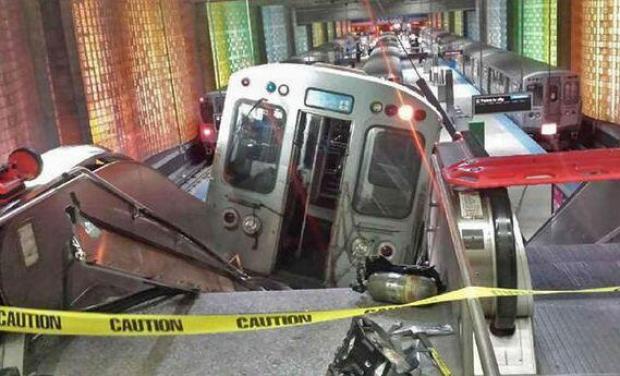 As for the union's claim that Haywood worked "strange hours," CTA officials say the operator requested additional work hours -- as was her right under the collective bargaining agreement -- and those two shifts added up to 13.6 hours, a request the CTA was required to provide under the union labor agreement.
Kelly says the operator is "torn to pieces" over the crash, and the union will fight the CTA if it seeks to fire her.
"The real issue here as far as I'm concerned is not that operator nodded off, it's that there are mechanisms in place to stop this train that didn't happen," Kelly said. "We've got people that work a lot of overtime, and to me, one of the issues is that we don't have enough people working up here."
A federal investigator looking into the crash on Monday that injured 32 passengers says the train's operator acknowledged she dozed off before the accident.
Workers removed the train from the O'Hare station on Thursday. CTA officials say the station will reopen this weekend.