The Federal Aviation Administration will conduct a complete review of its procedures in the wake of Friday's act of sabotage inside a radar facility near Chicago, Administrator Michael Huerta said Monday.
"If we need to make changes as a result of what happened on Friday to improve the system, we will not hesitate to do so," he said in a speech at the Air Traffic Control Association conference in Washington, D.C.
His remarks come three days after a fire brought flights at the city's two busy airports to a halt and disrupted air service across the country. Authorities said it was set by a contract employee who also tried to commit suicide.
Why FAA Fire Caused Nationwide Travel Mess
9/26/14: Thousands of passengers were left stranded Friday when a fire set at an FAA facility grounded flights at O'Hare and Midway airports. But Chicago fliers weren't the only ones affected. Phil Rogers reports. (Published Friday, Sept. 26, 2014)
Over the next 30 days, Huerta said a team of FAA employees and labor union representatives would be reviewing security practices and plans for dealing with unexpected incidents. He asked them to "think as creatively as possible."
The FAA has heightened security at all its air traffic facilities in response to the incident, but the review will look at what more can be done on background checks and access, Huerta said. "Everything needs to be on the table," he said.
Meanwhile, FAA officials said repairs were being made as quickly as possible and set a target date of Oct. 13 to have the Aurora facility fully functional. As of Monday, Huerta said service at O'Hare International Airport was 60 percent of normal and operations at Midway International Airport were 75 percent of normal.
Brian Howard, 36, of Naperville, entered the building around 5 a.m. Friday, and about 30 minutes later posted a suicide note on Facebook in which he apologized to loved ones for leaving "a big mess," according to a federal criminal complaint.
FAA Fire Suspect Allegedly Posted Intentions on Facebook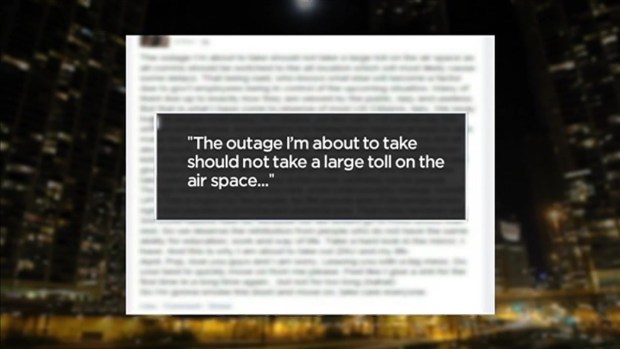 9/26/2014: Facebook post linked to Brian Howard said he planned to create outage and take his own life. NBC 5's Phil Rogers reports. (Published Friday, Sept. 26, 2014)
Minutes later, someone at the facility called 911 to report the fire. A relative who saw the Facebook post also alerted authorities. Paramedics followed a trail of blood past a gas can, two knives and a lighter and found the suspect slashing his throat, the complaint said. He also had cuts to his arms.
One of the paramedics pulled the knife from his hands as the suspect called out, "Leave me alone," according to the complaint.
Howard worked at the facility for eight years and was involved with the facility's communications systems. He was recently told he was being transferred to Hawaii.
If convicted, he could be sentenced to up to 20 years in prison.
Published at 11:08 AM CDT on Sep 29, 2014 | Updated at 12:05 PM CDT on Sep 29, 2014