Air travel in the Midwest will remain hampered after a saboteur set fire to equipment in a radar facility in Aurora Friday.
Federal Aviation Administration officials said the agency was making repairs as quickly as it could and hoped to have the facility fully operational by Oct. 13.
To speed up the process, they planned to replace equipment in an adjacent part of the building.
"After inspecting the damaged equipment at the Chicago En Route Center, the FAA has decided to completely replace the central communications network in a different part of the same building, to restore the system as quickly as possible," the agency wrote in a statement. "The FAA is assembling the new components at a remote site, and they will begin to arrive at the center tomorrow. Technicians will work on the installation around the clock, to set up the new equipment, connect it to several undamaged systems, and complete testing. Cleaning crews are also continuing to work around the clock to ensure a safe work environment."
The statement indicated air travel could resemble normal on Monday.
More than 530 flights were canceled at O'Hare International Airport on Sunday morning, a marked improvement from the 2000 cancellations on Friday and more than 700 on Saturday.
The widespread disruption left some aviation analysts, travelers and politicians calling for a smoother backup plan and wondering how one person could be in a position to wreak so much havoc.
"Chicago O'Hare International Airport cannot be brought to a screeching halt," said Republican Sen. Mark Kirk, of Illinois. "I want to see not only an immediate review by the FAA of the screening process at the Chicago Air Route Traffic Control Center in Aurora, but also a report within 30 days outlining changes the FAA will make to prevent any one individual from having this type of impact on the heart of the United States economy."
FAA Fire Suspect Allegedly Posted Intentions on Facebook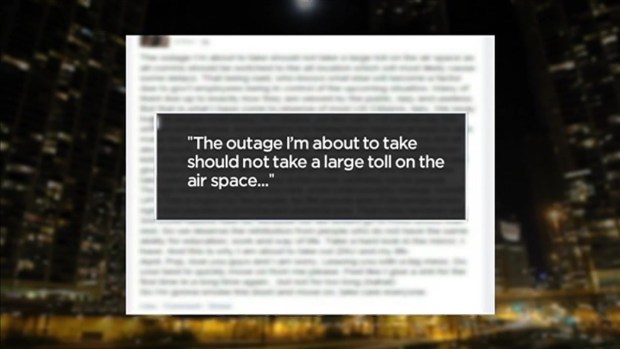 9/26/2014: Facebook post linked to Brian Howard said he planned to create outage and take his own life. NBC 5's Phil Rogers reports. (Published Friday, Sept. 26, 2014)
An FAA spokeswoman did not immediately have a response, but an agency statement on Friday's fire emphasized that air space management was immediately transferred to other facilities.
The FAA said it conducts employee background checks on contract workers like Howard who have access to FAA facilities, information or equipment. Contract employees, like other staff at the Aurora facility, also must have their identification inspected by a perimeter guard and must swipe their cards to gain access to the building.
Brian Howard, 36, of Naperville, entered the building around 5 a.m. Friday, and about 30 minutes later posted a suicide note on Facebook in which he apologized to loved ones for leaving "a big mess," according to a federal criminal complaint.
"Take a hard look in the mirror, I have," the post says, according to the FBI special agent who prepared the complaint. "And this is why I am about to take out ZAU and my life." ZAU is the three-letter designation for the Aurora facility.
Why FAA Fire Caused Nationwide Travel Mess
9/26/14: Thousands of passengers were left stranded Friday when a fire set at an FAA facility grounded flights at O'Hare and Midway airports. But Chicago fliers weren't the only ones affected. Phil Rogers reports. (Published Friday, Sept. 26, 2014)
Minutes later, someone at the facility called 911 to report the fire. A relative who saw the Facebook post also alerted authorities. Paramedics followed a trail of blood past a gas can, two knives and a lighter and found the suspect slashing his throat, the complaint said. He also had cuts to his arms.
One of the paramedics pulled the knife from his hands as the suspect called out, "Leave me alone," according to the complaint.
Howard worked at the facility for eight years and was involved with the facility's communications systems. He was recently told he was being transferred to Hawaii.
If convicted, he could be sentenced to up to 20 years in prison.
On Saturday, workers began drying out equipment damaged by water from the building's sprinkler system, the agency said.
Published at 9:06 AM CDT on Sep 28, 2014 | Updated at 8:14 AM CDT on Sep 29, 2014