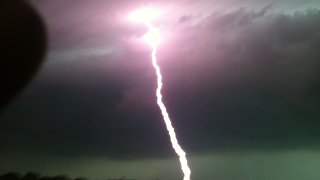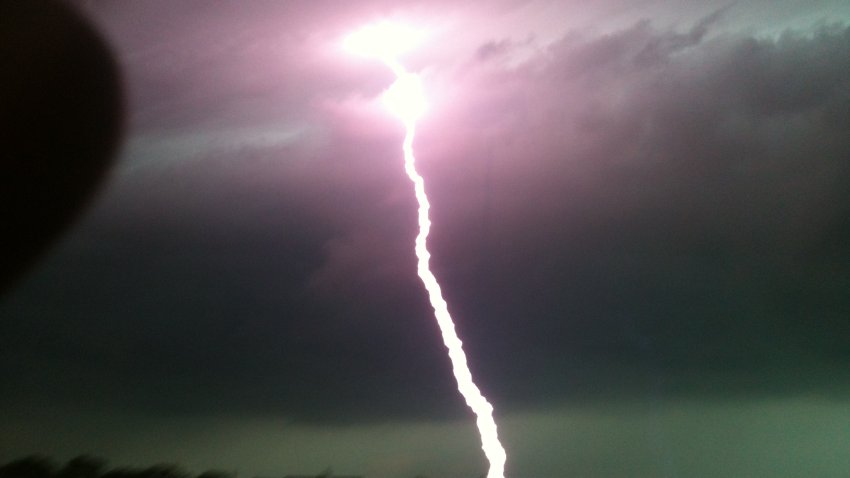 Some of the Chicago area's warmest temps of the year so far this year were followed up by severe thunderstorms, some of which dumped tennis ball-sized hail on the region.
The National Weather Service issued multiple severe thunderstorm warnings Tuesday night. Those warnings came as large hail fell across the area, with reports of ping pong ball to tennis ball-sized hail flooding in from multiple reporting sites.
Winds gusted up to 60 mph with some of the storms, and torrential rains fell throughout the area after one of the warmest days of the year.
Much of the Chicago area was under a severe thunderstorm watch Tuesday evening, according to the National Weather Service, but those watches have mostly been canceled after storms roared through the area.
The watch only remains in effect for Will County in Illinois and Lake and Porter Counties in Indiana until 11 p.m.
Weather Photos: Severe Storms Pound Chicago Area With Lightning, Large Hail
A severe thunderstorm warning issued for central Kane County has been canceled after the storm weakened below severe limits. High winds and occasional downpours are still possible with the storm, according to the weather service.
A severe thunderstorm warning issued for northern DeKalb County, northwestern Kane County and southwestern McHenry County until 8:15 p.m. has been allowed to expire.
A severe thunderstorm warning issued for Lake County and central McHenry County until 7:45 p.m. was allowed to expire, according to the National Weather Service.
Temperatures climbed well into the 70s for many Tuesday, reaching levels not seen in the last 189 days, according to NBC 5 Storm Team Meteorologists.
And the spring warmth won't last long as a cold front is expected to make its way in.
Wednesday likely will be partly sunny, breezy and not as warm but still well above average with highs in the 60s. A few showers and storms will be possible in the late afternoon or evening.
Once the storms clear the area, drier, but much cooler conditions are expected to return for the rest of the week.