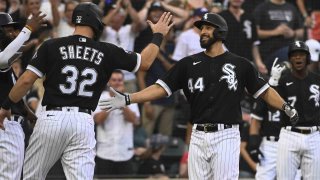 Zavala explodes for three-homer game in bonkers Sox loss originally appeared on NBC Sports Chicago
It's difficult to think of something that seemed more unlikely than Seby Zavala hitting three homers in a single game.
But Saturday night was a crash course in expecting the unexpected.
The Chicago White Sox catcher did something no player in major league history had ever done before, hitting his first big league homer as part of a three-homer game. No White Sox catcher had ever hit three homers in a single game before.
Considering Zavala, praised constantly for his work behind the plate, entered with a .143 batting average on the season — and had hit .178 at Triple-A Charlotte prior to joining the big league club — seeing an outpouring of offense didn't seem realistic. Seeing him launch three homers, including a grand slam, in his first three trips to the plate on the night?
Well, if you predicted that would happen, you best take your talents to Las Vegas.
"I always knew I could swing it," Zavala said. "But (I've been) going through a rough patch for a couple of months. I knew if I kept working something would click.
"I just got lucky today. I got some pitches to handle, and I didn't miss them. I guess that's the only way to hit home runs: don't miss 'em."
But Zavala's home-run antics were only part of the story Saturday, a bonkers White Sox loss to the division-rival Cleveland Indians, one that featured a combined 23 runs on a combined 24 hits.
The White Sox built a 6-1 lead on Zavala's second dinger, the grand slam, only for Cleveland's offense to score nine straight runs from there.
Dallas Keuchel was tagged for three homers for the second straight start, and he allowed five runs on the night, blaming what he called a "mechanical flaw" for his woes of late. After finishing 2020 with a razor-thin 0.99 ERA, his 2021 ERA is up over 4.50 after Saturday's outing.
"I've been dealing with this mechanical flaw of mine, and sometimes I clean it up and sometimes I don't," he said. "For a lack of better term, I've just got to be better. I've got to clean up that one small flaw.
"If I clean that up we'll be all right. I guess we'll see."
But the real puzzler was Michael Kopech, who has been one of the team's most effective arms this season. Instead of his usual blow-'em-away stuff, he was knocked around by Cleveland and charged with five runs in the sixth and seventh innings in relief of Keuchel.
It looked weird to just about everyone, an opposing lineup feasting on the fireballer, and the White Sox are committed to figuring out what went wrong with some video study in the coming days.
"They looked too good off of him. I don't know what it was yet, but we'll look into that," Zavala said. "But Kopech's been good all year. I'm not putting too much into his outing today. He'll be back. Next outing he'll be just fine."
But the barrage of offense told the story, and the White Sox weren't done after going down 10-6. Zavala's third homer jumpstarted the offense once again, and the South Siders scored two in the bottom of the seventh. After Cleveland struck back with two more in the top of the eighth, the White Sox added three in the bottom of the inning to get within a run.
Then came Craig Kimbrel's debut with his new team, the All-Star closer acquired in the statement-making trade Friday turning in a 1-2-3 inning to stop the madness in the top of the ninth, the first scoreless frame by a White Sox pitcher since Keuchel threw up a zero in the third.
But the one-run deficit stayed there as the White Sox couldn't muster a base runner in the ninth, either.
Got all that?
There won't be a quiz, and despite Zavala grabbing the home-run balls as forever keepsakes postgame, the White Sox have gotten into the habit of immediately flushing tough losses, meaning this one might not come up all that often moving forward.
Because blowing a 6-1 lead in the sixth — even with all the zaniness that followed — counts as a tough one.
"That's a bitter, bitter defeat," La Russa said.
Click here to follow the White Sox Talk Podcast.
Copyright RSN