As part of the special MLB Player's Weekend event, players are being allowed to wear special cleats and jerseys, and Chicago Cubs third baseman Kris Bryant took that idea and ran with it in honor of one of his good friends.
Bryant teamed up with Red Bull and the Wings of Life Foundation to create three different sets of cleats that not only honored his upbringing and baseball career, but also his friend Cory Hahn, who was paralyzed after sliding into a base in 2011.
In Friday's game against the Philadelphia Phillies, Bryant will wear a set of cleats designed to honor his hometown of Las Vegas. With a red and blue look and gold accents, the shoes were designed by artist Joseph Perez, aka "Sentrock."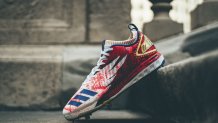 On Saturday, JC Rivera's work will take center stage as Bryant wears cleats honoring his time at the University of San Diego, where he established himself as a college star and set the stage to be picked with the second overall draft pick by the Chicago Cubs in 2013.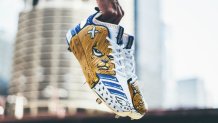 Bryant will wrap up the weekend on Sunday by wearing shoes dedicated to Chicago. The cleats, designed by artist Max Sansing, feature the iconic Chicago red star and a pop of blue evocative of the Cubs and their fans.
The Wings of Life Foundation funds spinal cord research, and Red Bull is encouraging fans to donate to the organization this weekend, with 100 percent of donations going directly to the non-profit.
MLB Player's Weekend, which will take place beginning on Friday, will allow players to show their creativity by using specially designed bats, cleats, and jerseys. Players will be allowed to use nicknames on their jerseys instead of their regular names, and their cleats and bats can be whatever color or design they want, instead of having to be in tune with the team's uniform color.