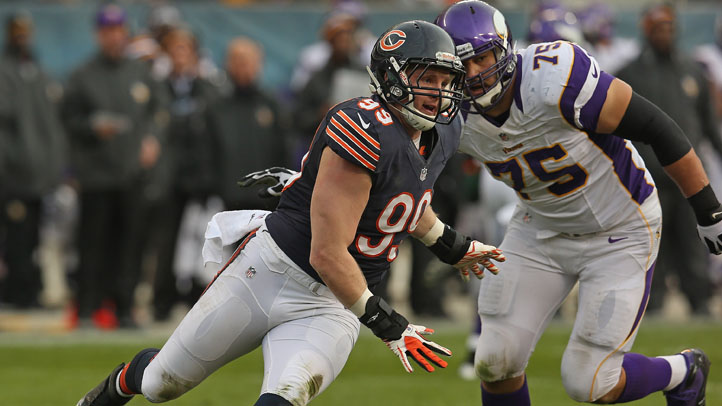 The Chicago Bears will be participating in their mandatory mini-camp this week at Halas Hall, and there are several battles that will be taking place for various roles on the team. In the second part of a two-part series, we'll preview those battles, and reveal who we think will win the jobs when the team starts the regular season in September.
Starting Free Safety
One of the more intriguing aspects of the Bears' new defensive group will be which player ends up seizing the free safety position. Strong safety will likely be filled by new acquisition Ryan Mundy, but the free safety spot is up for grabs as rookie Brock Vereen and Chris Conte battle it out. MD Jennings will also see time in both spots, as will Craig Steltz.
If we had to guess how things will shake out, it wouldn't be surprising to see a Mundy-Vereen combination in Week 1. Vereen has really been impressing the Bears during his initial sessions with the team, and a strong training camp could land him the gig over Conte, who is still recovering from shoulder surgery. Conte could still win the job if he's healthy enough once the team arrives in Bourbonnais, but that's a big if.
Strong Side Linebacker
Another position that's unsettled on the line is that of strong side linebacker. DJ Williams and Lance Briggs are all but assured starting positions at middle and weak side linebacker respectively, but the third linebacking slot in the Bears' 4-3 defense is going to be one that several players want.
The two main contenders for the role will be Shea McClellin, who is moving back to linebacker after being a spectacular failure at the defensive end position, and Jon Bostic, who despite some growing pains in his rookie season in the NFL last year will be looking to prove that he is a starting-caliber linebacker.
Another player to keep an eye on as mini-camp gets underway is Christian Jones, an undrafted free agent out of Florida State who is going to be eager to prove that he belongs on an NFL roster. It's highly unlikely that he'll beat out Bostic or McClellin for the starting job, but if he can contribute on special teams and adapt to Mel Tucker's defense quickly, he could end up seeing some snaps for the Bears when the season gets underway.
Defensive Tackle
This is a battle that's all but decided as incumbents Jeremiah Ratliff and Stephen Paea are both likely going to get the jobs, but it's the amount of snaps that both players will be on the field for that is up in the air.
The two players competing with the veterans for playing time will be rookies Ego Ferguson and Will Sutton. Ferguson is a bit more of a project at the position, but his raw skillset and huge athletic upside make him an intriguing option for increased playing time later in the season. As for Sutton, he is coming off of a solid college career that showed flashes of brilliance at Arizona State, and if either Ratliff or Paea gets injured, he could be the guy that slides into the defensive tackle spot between Jared Allen and Lamarr Houston.
Nate Collins is also going to see some playing time at the position, as the fifth year player out of Virginia looks to prove that he has what it takes to play at the NFL level.