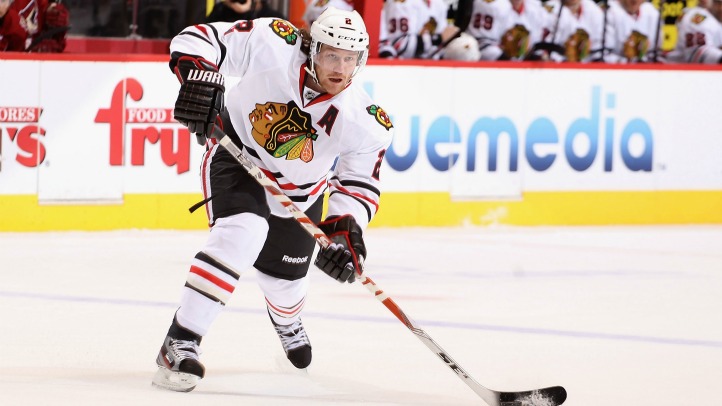 Practice report's out.
Duncan Keith did not skate and will not play tomorrow in South Florida.
While trying to get actual injury information from the Hawks is akin to getting Excalibur out of the stone while being attacked by eagles, some things I've seen haven't a broken finger near the tip, which means he won't be out for too long. Most likely, he won't play against the Lightning either. But you'd have to keep him chained up in Milwuakee to keep Keith from playing against the Canucks on Sunday at the United Center. That's just a best guess.
Because of that, Sami Lepisto will skate for a third straight game. How the pairings shake out hasn't been determined. The best guess is that Lepisto and Montador would remain together as they've been the past two games. There's no way that Quenneville would ask Lepisto to skate anything more than third pairing minutes. He could be paired with O'Donnell, and Leddy and Montador would skate together. Montador's charging instincts would have to be checked, which is why O'Donnell makes more sense as he's built to play center field for the wanderings of Leddy. Most likely, Q mixes and matches all night.
Everyone else is healthy, and Dan Carcillo was skating with the fourth line -- Jamal Mayers and Marcus Kruger. The Hawks probably want to keep Patrick Sharp with Marian Hossa and Patrick Kane because they've been so productive. Viktor Stalberg has been playing well with Toews and Brunette, so why break it up?
All of this means that John Scott will not be in the lineup, and I want to write this sentence 71 more times this season.