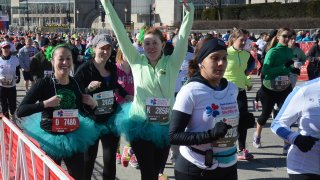 The 2023 Bank of America Shamrock Shuffle will soon take over city streets for the unofficial kickoff to outdoor running season, but that will mean a number of street closures in the city.
The race often has thousands of runners flooding the city streets. In order to make way, the city of Chicago has announced numerous road closures and parking restrictions.
According to a release from organizer, there will be rolling street closures around Grant Park from March 24 through March 27.
On the day of the 8K Race, March 26, the following streets will be closed from 8-11:15 a.m.:
Columbus Dr. from Roosevelt Rd. to Grand Ave.
Grand Ave. from Columbus Dr. to State St.
State St. from Grand Ave. to Wacker Dr.
Wacker Dr. from State St. to Washington Blvd.
Washington Blvd. from Wacker Dr. to State St.
State St. from Washington Blvd. to Jackson Blvd.
Jackson Blvd. from State St. to Franklin St.
Franklin St. from Jackson Blvd. to Harrison St.
Harrison St. from Franklin St. to Michigan Ave.
Michigan Ave. from Harrison St. to Roosevelt Rd.
Roosevelt Rd. from Michigan Ave. to Columbus Dr.
Parking will not be allowed on any of these streets beginning at 1 a.m. on March 26. Vehicles that are not removed will be ticketed and towed. For information on towed vehicles, you can reach out to (312)744-4444.
To learn more about road closures or parking restrictions, click here.