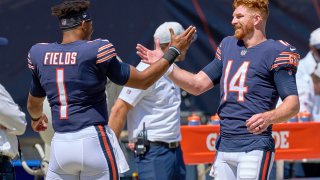 While Chicago Bears fans are understandably excited about first round draft pick Justin Fields, the team's starting quarterback is quick to remind those fans that he fully expects to be under center in Week 1, and that he's ready for the challenge of helping the team get to the playoffs for the third time in four seasons.
Andy Dalton, who signed a 1-year contract with the Bears earlier this year, is still the team's starting quarterback, as head coach Matt Nagy has pointed out on multiple occasions, and he didn't mince words about the way he's approaching his business as the season draws closer.
"Justin's gonna have his time, and Justin's gonna have a great career, but right now, it's my time and so my focus is on being the best player I can be for this team and to do everything I can to help this team win," he said. "I know who I am. I know who I was created to be. Do I want the fans behind me and this team and all that kind of stuff? Yes. Do I want them behind Justin? Absolutely I do."
Shortly after the Bears signed Dalton, they traded up nine spots in April's NFL Draft to select Fields out of Ohio State.
In Saturday's preseason opener, Fields was the star of the show, throwing for 142 yards and a touchdown in his first game action with the Bears. Dalton attempted four passes, completing two of them for 18 yards in limited action.
Despite Fields' performance, Nagy said after the game that he still fully intends to have Dalton under center in the first game of the season against the Los Angeles Rams.
"It is the case (that Dalton will be the starter)," Nagy said.
The coach did say that he expects Fields to get some additional time with some of the Bears' starting skill position players, including wide receiver Allen Robinson.
Fields missed Wednesday's workout at Halas Hall with a groin issue, the team said.