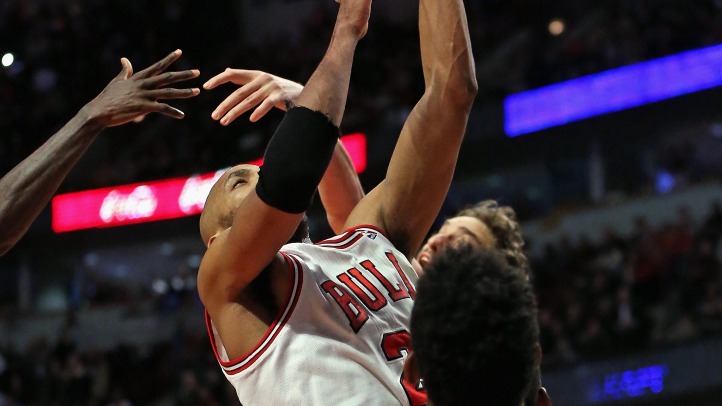 The Bulls MLK Day matchup with the Los Angeles Lakers was originally supposed to be a nationally televised contest on TNT. But with Kobe Bryant and Derrick Rose set to miss the game with injuries, the network dropped the game.
But as it turns out, it was an exciting contest as the Bulls defeated the Lakers in overtime, 102-100, on a game-winning basket by the unlikeliest player, Taj Gibson.
Gibson played 32 minutes and scored 12 points and grabbed six rebounds. But his biggest play of the night came on a beautifully designed out of bounds play by Tom Thibodeau with just 0.9 seconds on the clock.
"I didn't think he was going to call my number, but Coach has faith in me," Gibson said. "Thibs just told me to go hard, try to dunk it and get a foul. He told me, 'Use your left.' They always crack jokes on me in practice to use my left. And today I proved them wrong."
Gibson dived to the basket and received a perfectly placed pass from Mike Dunleavy Jr., and like his coach instructed him to do, finished the layup with his left hand before the red lights behind the backboard went off, signaling that time had expired.
"I felt a little bit like Peyton Manning," Dunleavy quipped. "I looked over my options and called a couple of 'Omaha's.' No, really, when the play started, I knew we had it because of the way they were guarding Taj."
As for the play itself, Thibodeau didn't go into much detail after the game, choosing instead to remain in character as the ever serious, tight-lipped head coach of the Bulls.
"It's a quick read," he said. "Mike made a great play on it to throw the ball up so Taj didn't have to go down and up. You need everyone to sell the play."
But no matter how much he tried to downplay it to the media, Thibs was excited as cameras caught him smiling and high-fiving Gibson as the Bulls exited the floor and headed for the locker room.