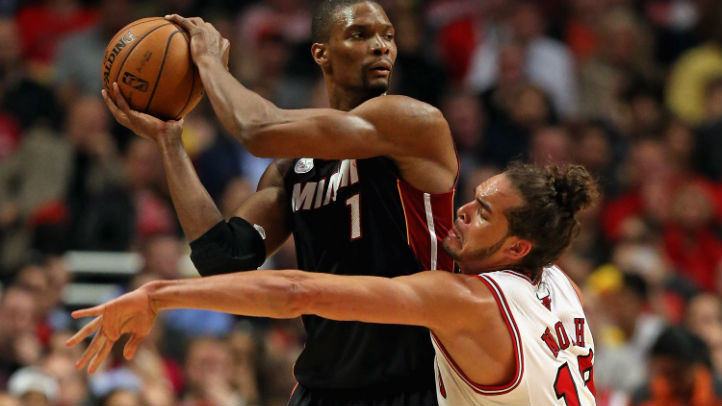 The Chicago Bulls now find themselves in a 3-1 playoff series hole after Monday night's 88-65 loss at the United Center to the Miami Heat. Fortunately for Chicago, the series isn't over and they still have another game to play.
But unfortunately, the Bulls are up against history as very few NBA team have ever come from being down 3-1 to win a playoff series.
And if Monday night's performance was any indication, it's unlikely Chicago will be the first to erase that trend. They came out flat from the opening tip and just seemed to run out of gas. Heart and toughness will only get you so far in the NBA and at the end of the day you're going to need talent.
Chicago certainly has the will to win this series, but with regard to Miami, they just don't have the talent to compete.
The Good
Nobody got hurt. Does that count? Chicago managed to have four players score in double figures compared to just two for Miami. Carlos Boozer (14 points, 12 rebounds) contributed a double double to the Bulls' cause while Jimmy Butler (12 points) was the only other starter to notch double digits. Rip Hamilton (11 points, four assists) also made an appearance after being taken totally out of Tom Thibodeau's rotation. Chicago was +10 in rebound margin, 46-36, and +3 in second-chance points, 12-9.
The Bad
Chicago turned the ball over 17 times and Miami capitalized with 16 points off their takeaways. The Bulls also couldn't capitalize on Miami's giveaways scoring only nine points on the Heat's 17 turnovers. Miami also had twice as many assists than the Bulls, finishing with 24 in the game.
The Ugly
The shooting was atrocious for the Bulls in Game 4 as they shot 19-24 from the field (26 percent) in the game. The 19 made field goals was a new franchise playoff low, as well as the nine points the team scored in the third quarter. Nate Robinson shot an abysmal 0-12 from the field while Jimmy Butler was 4-10; Rip Hamilton 4-11, Carlos Boozer 3-14 and Joakim Noah went 1-6.
Normal 0 false false false EN-US JA X-NONE /* Style Definitions */ table.MsoNormalTable {mso-style-name:"Table Normal"; mso-tstyle-rowband-size:0; mso-tstyle-colband-size:0; mso-style-noshow:yes; mso-style-priority:99; mso-style-parent:""; mso-padding-alt:0in 5.4pt 0in 5.4pt; mso-para-margin:0in; mso-para-margin-bottom:.0001pt; mso-pagination:widow-orphan; font-size:12.0pt; font-family:Cambria; mso-ascii-font-family:Cambria; mso-ascii-theme-font:minor-latin; mso-hansi-font-family:Cambria; mso-hansi-theme-font:minor-latin;} Follow Outside Shot on Twitter (@Outside_Shot) for more Bulls news and information