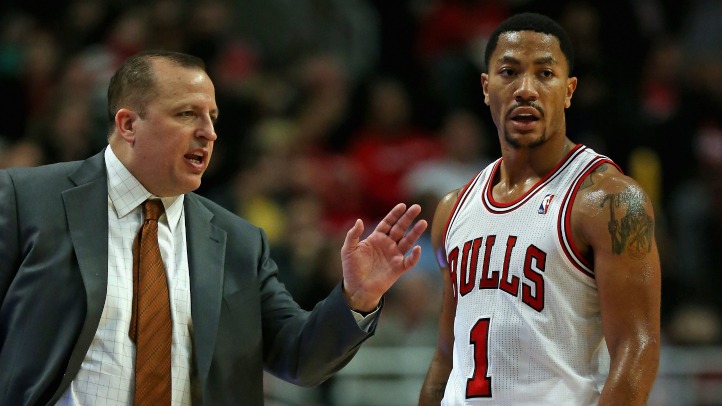 Derrick Rose seems to be working himself back into being the D. Rose of old. In the first half against the Denver Nuggets, Rose scored 15 points on 7-12 shooting from the field and kept Chicago in the game in spite of Denver's red-hot shooting from the field.
But Rose struggled in the second half, scoring just four points and shooting 2-8 from the field as the Nuggets put the game away early in the fourth quarter.
So far, Rose is having the worst statistical season of his five-year career. His 36 percent field goal shooting, and 15.4 points per game average are all career-lows. But after 18-months away from the game, it's taking him some time to regain the form that made him the youngest MVP ever and his head coach isn't worried about his stars early season struggles.
"I thought he played hard. I think he's still shaking some rust off and he's itching to play more minutes, so that's a good sign. He feels pretty good," Tom Thibodeau said after Thursday night's game. "He had a great first half. Attacking, just great quick, explosive moves, good plays, terrific defense. It's coming. You can see it. I just want him to continue to concentrate on improvement, getting better each game. His confidence is growing, he's getting better and better. But our team has to play better. We have to find ourselves."
"I'm not worried about how I feel during the game. I'm going to continue to play the way that I normally play. I'm not worried about my rhythm or anything. It's going to come," said Rose. "I know it's there. I work too hard. Just shooting with the ball in my hands, that's the next step. Coming off pick-and-roll, mid-range shots. Set shots, I know I can knock them down, but just getting used to having the ball in my hands and creating, and really knocking down the shots. That's the next thing. Like I said, I know my rhythm is going to come."