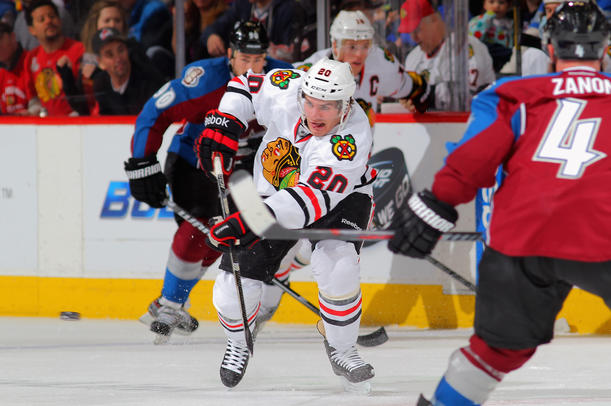 In Sunday's 7-1 win against the Detroit Red Wings, there was one player who truly stood head and shoulders above the rest.

Yes, Corey Crawford made 33 saves, and yes, Jeremy Morin scored on his first shift back with the team, but the real star of this game was 20-year-old Brandon Saad.

In the first period, Saad showed off the deft moves that have solidified his spot on the team's top line. When the Detroit defense collapsed on the near side to take care of Michael Frolik, Saad skated in unabated toward Red Wings goalie Jimmy Howard. A great pass from Frolik and an eye-popping deke later, and the youngster had scored a beautiful goal.


On the second tally, Saad showed off his blazing speed, which he has deployed with a greater frequency of late. Off a faceoff win by Jonathan Toews, defenseman Niklas Hjalmarsson punched the puck up the boards, and it took a perfect carom to the middle of the ice. Detroit defenseman Brian Lashoff could only watch helplessly as Saad blew past him and took a quick flip shot right between the legs of Jonas Gustavsson.
Saad may not be the flashiest player judging purely on statistics, but his reputation as a dynamite offensive player seems to be growing. Toews praised him during an interview, lauding his improved maturity and his ability to assimilate into a top-line role. With that kind of notoriety beginning to find this young man, it seems perfectly reasonable to assert that he is going to be in the running for the league's rookie of the year award, the Calder Trophy.
The award, which hasn't been won by a Blackhawk since Patrick Kane won it in 2008, is heavily contested every year, and this season is no exception. Jonathan Huberdeau of the Florida Panthers is considered by many to be the favorite for the award, with 13 goals and 12 assists in 36 games. Cory Conacher of the Tampa Bay Lightning is another prime candidate, with nine goals and 15 assists on the season. Finally, Montreal Canadiens winger Brendan Gallagher is getting some serious love, with 11 goals and nine assists for the surprising Habs.

Nineteen points definitely gets Saad into that conversation, but it is his surprising ascent from second round pick to the top line of the best offensive team in hockey that should keep him there through the end of the season. On a team full of superstars, Saad is quickly becoming a player to watch in his own right, and he will be crucial for the Hawks as they enter a stretch where they play a lot of games in a very short time span.