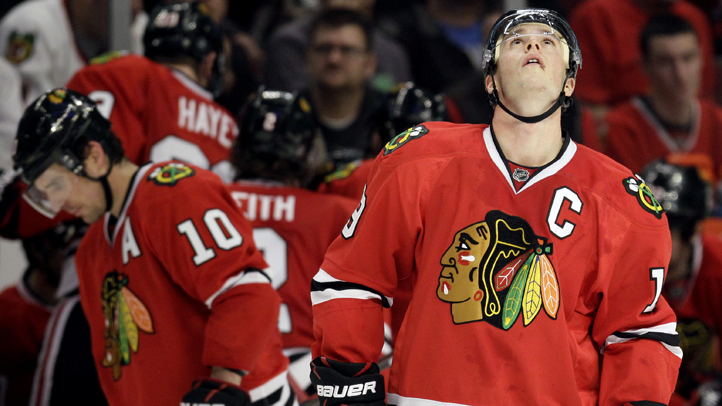 A look at some current trends for the Hawks:

1.77: This is Jimmy Hayes's Behind The Net Rating. It's one of the best on the team, admittedly in only six games but still encouraging. Hayes demonstrated an all-around awareness. The coaches are obviously liking what he's doing. His ice-time has increased from under 10 minutes his first two games to 16 minutes Tuesday night. He's gotten a look on all four lines. The interesting thing Tuesday night was that while Hayes is piling up 16 minutes, Bryan Bickell had only nine. Again, it's a small sample size and this was a game against Columbus, which is simply the driving range at this point. But you have to wonder if Joel Quenneville isn't starting to eye Hayes as a winger for Dave Bolland on the checking line, where he's put Bickell all year. It's still a question if Hayes has the total defensive awareness to claim that spot. But Bolland did his best work with a sizable, physical forward in Andrew Ladd, and Hayes looks to be that.
14: The number of hits Andrew Shaw has in his four games up here. It's the same with Hayes, it's a very limited sample size. But Shaw has shown no fear at this level, and is actually providing the physicality, the forecheck, the pest nature that Dan Carcillo was counted on for, and he hasn't tried to maim anyone yet. Both of these kids have earned more of a look in their time here. You have to believe that when Marcus Kruger returns to the lineup, either tomorrow night or at the weekend, both of these guys will be staying around.
7.2: Patrick Kane's shooting percentage, well below his career average of 10.3. What should be encouraging to Hawks fans is he's still averaging the same amount of shots per game that he did in his one 30-goal campaign. As they old saying goes, you only worry when he's not getting the chances. He is, they're just going in. It's not all bad luck, obviously. But some of it is, and generally these percentages settle where they normally do. If Kane's goes through a market correction, you'll see a scoring binge that should quiet every one down about his slump.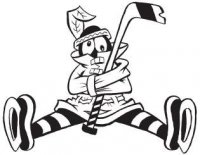 Sam Fels is the proprietor of The Committed Indian, an unofficial program for the Blackhawks. You may have seen him hocking the magazine outside the United Center at Gate 3. The program is also available for purchase online. Fels is a lifelong 'Hawks fan and he also writes for Second City Hockey .