Last week, we called the Chicago Bears' loss to the Detroit Lions a "scathing indictment of the Emery regime." After yet another dismal loss to the Dallas Cowboys on Thursday night, we've decided to take a different approach.
Instead of giving you our take on how the Bears are doomed and everyone deserves to be fired, we've decided to collect some of the best Bears takes from around the web as fans and columnists weigh in on what has become a lost season.
First, we check in with some of our local scribes. David Haugh has jumped on the bandwagon saying that it isn't a matter of whose heads will roll, but rather when those heads will start rolling. [Chicago Tribune]
Rick Morrissey had some thoughts on the comparisons between Jay Cutler and Tony Romo, calling them unfair…..to Romo. [Chicago Sun-Times]
Finally, Dan Bernstein says what so many Bears fans have to be thinking after the defeat: he wishes it had been worse, because that would mean that we'd be one step closer to dramatic action taking place. [670 the Score]
Now that we've let our local writers have their say, it's time to take the pulse of Bears fans. Needless to say, there's plenty of doom and gloom, and optimism is scarce, judging by these photo choices:
#Bearspic.twitter.com/0jS7RtoWTO

— gustavo vega (@iamvega1982) December 5, 2014
BREAKING: The Chicago #Bears have officially changed the cover photo of their 2014 Media Guide: pic.twitter.com/uirpSFZHzB

— Scott A. Andresen (@ScottAndresen) December 5, 2014
Naturally, there was plenty of criticism of Jay Cutler, who threw for 341 yards and two touchdowns in the game:
Jay Cutler is the best garbage time QB on the NFL #BearsSuck

— Brandon Fife (@fifeslife) December 5, 2014
Jay Cutler has such great command of the offense.. When we're down by 30 #DALvsCHI#BearsSuck

— MyFantasyCommish (@MFCSports) December 5, 2014
Although not all of it was directed at his on-field performance:
I feel strongly Cutler should be cut...Not for his play but for his fashion choice during the postgame press conference. #Bears#BearsTalk

— Lance Potts (@LancePotts) December 5, 2014
Of course, not all tweeters were so sarcastic and pessimistic. Brad Biggs weighed in with some positive news on an otherwise lackluster day:
Ryan Leaf is a free agent. pic.twitter.com/1Se692Gnly

— Faux Phil Emery (@FauxEmery) December 5, 2014
If you're worried about having your spirits lifted too much, allow us to bring you back down to Earth:
If that wasn't enough, here's a reminder of what's coming next week:
Is there a way the #Bears can flex out of there Monday Night Game against the #Saints, I don't want the #Bears to be a national joke again

— Robbie Zoline (@RobbieZoline) December 5, 2014
Three weeks, Bears fans. We've still got three weeks left.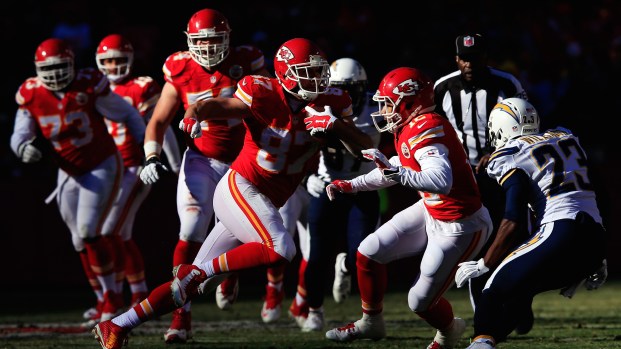 Best of the 2014 NFL Season