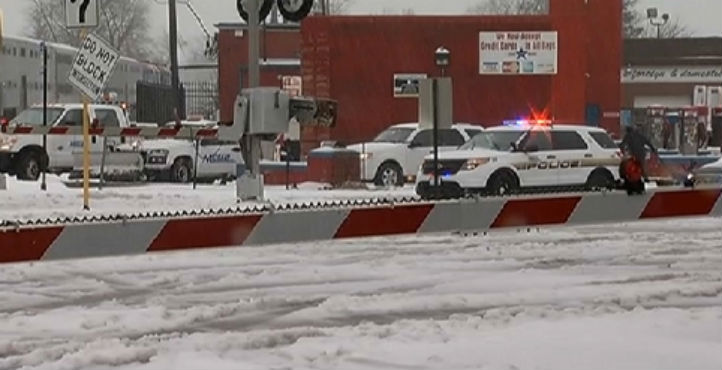 Two people were killed and four others, including a toddler, were injured Monday when a train hit a car in a southwest Chicago suburb.
Chicago Fire officials reported a pin-in accident involving a Metra Southwest Service line train and a car around 1:30 p.m. at 87th Street and Pulaski Road in Hometown.
Authorities said the car was traveling west on 87th Street when it became stuck in traffic. Police believe Monday's icy and snowy winter storm may have been a factor in the crash as it appeared the vehicle was unable to move from the tracks before it was hit.
The Hometown Fire Department initially reported five people were injured in the crash and taken to Advocate Christ Medical Center in Oak Lawn for treatment. Police later said a woman passenger was killed in the accident and a Metra spokesman confirmed shortly after 6 p.m. that a teen passenger had also died.
The two women were identified by the Cook County Medical Examiner's office as 20-year-old Juniel Kemp and 18-year-old Alexis Kemp, both of Oak Lawn.
Metra initially said a total of five people were involved in the crash, but later updated the injured number to four, including the driver and a toddler. Spokesman Michael Gillis said a 20-year-old man, a 17-year-old boy, a 17-year-old girl, and a 3-year-old boy were all injured in the accident.
No train passengers were hurt in the crash, authorities said.
Metra said Southwest Service train No. 815 was scheduled to arrive in Manhattan just before 2 p.m. but was stopped after it hit a vehicle near Pulaski.
According to Chicago Fire Media Affairs, who said city responders were assisting at the scene, the car was heavily damaged and all occupants were extricated from the vehicle just after 2 p.m.
Police said the car was pushed more than 70 feet and into an electrical box in the crash.
The accident caused a number of delays for Metra trains on the Southwest Service line Monday afternoon.
Several inbound and outbound trains were operating with delays of more than 15 minutes between Ashburn and Oak Lawn due to signal problems following the crash, Metra said. Train No. 830, which was scheduled to arrive at Union Station at 3:48 p.m. was nearly one hour behind schedule, according to the transit agency.