NOTE: NBC Chicago will offer a live stream with complete 2019 race coverage beginning at 7 a.m. on Oct. 13 right here.
They're the unsung heroes that make race day everything it needs to be -- the volunteers of the Bank of America Chicago Marathon.
Whether it be at the expo or along the course or at the finish line, volunteers are with the runners every step of the way to make sure things go as they should.
If you're thinking about volunteering or if you already are, here's everything you need to know:
Volunteer Registration
All volunteers are required to register online individually by 11:59 p.m. CT on Oct. 4.
Where Are Volunteers Needed?
Individual volunteers:
Friday, October 11 and Saturday, October 12
Advocate Health Care International Chicago 5K
Friday, October 11 and Saturday, October 12
Bank of America Chicago Marathon
Sunday, October 13
Start corrals, information team, course marshal and post-race party beer opportunities are open to individuals on race day.
Volunteer groups
Join the fleet of over 200 volunteer groups that make up the Bank of America Chicago Marathon volunteer team! Group leaders recruit volunteers, share assignment information, relay registration instructions and keep their group on task and organized on the day of the event. Visit the group leader application to learn more about group registration and to apply.
Key volunteers
Key volunteers help fulfill critical leadership and management roles on race weekend. Becoming a key volunteer is a great opportunity for people looking to translate their experience, enthusiasm and passion into a higher-level commitment to the event. Visit the key volunteer application to learn more about key volunteer roles and to apply.
Celebrities Who Ran Bank of America Chicago Marathon
Volunteer Age Minimum
All volunteers must be 16 years of age or older on the day they are volunteering. A parent/guardian must agree to the volunteer waiver for volunteers between the ages of 16 and 18 years of age. Children and young adults under the age of 16 are not permitted to accompany registered volunteers who meet the age requirement when they are volunteering at the Abbott Health & Fitness Expo or on race day.
What Volunteers Should Wear
You are expected to dress in clothing appropriate for the work duties you have been assigned to perform. When required, you must have visible appropriate and current event issued credentials and/or ID vests and wristbands to be on the premises. Dress appropriately for the weather. Wear closed toe shoes at all times and the current event attire logo hat, shirt or jacket, if provided. All volunteers receive their uniform at volunteer check-in. Abbott Health & Fitness Expo volunteers receive a Nike long sleeve t-shirt and credential. Race day volunteers receive a Nike track jacket, hat and credential. The volunteer uniform should be worn as the outer layer and the volunteer credential should be visible at all times.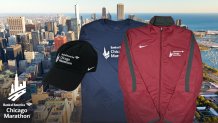 What Not to Do
Never block the path of race participants, throw items, yell or argue with participants, spectators, event staff or other volunteers. Any inappropriate conduct relating to race, ethnicity, gender, religion or physical disability is not tolerated.
What You Should and Should Not Bring
Volunteers are strongly discouraged from bringing personal belongings to the event. Gear check will be required for belongings that cannot be carried in a volunteer's pockets, including personal bags, purses, backpacks or similar items. Bring a valid photo ID. Volunteers will be required to provide photo identification at Volunteer Check-In in order to volunteer. School IDs are accepted.
[[492969531 L]]
Is Food Provided?
Snacks and meals are provided depending upon the time of day and duration of the volunteer shift. It is not guaranteed that meals will accommodate all dietary restrictions.
Transportation and Parking
Volunteers are encouraged to use public transportation when possible.