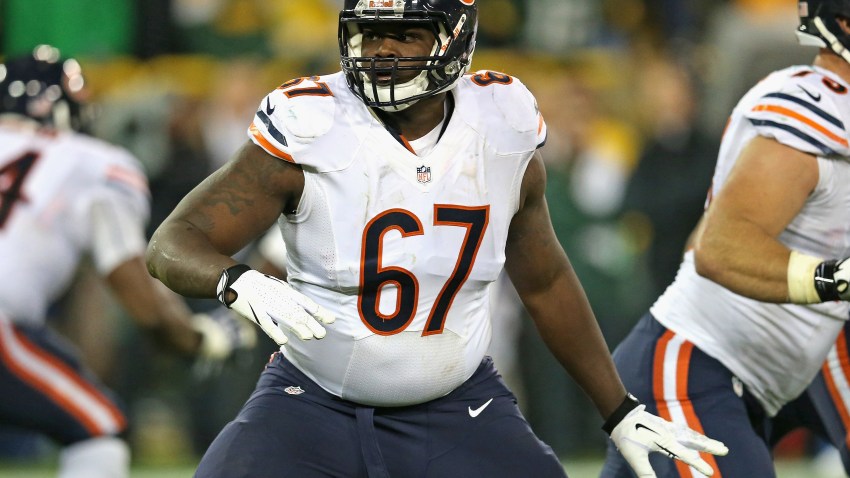 In First Practice Back, Mills Looks to Regain 2013 Form
After breaking his foot and undergoing offseason surgery, right tackle Jordan Mills hit the practice field on Friday not only looking to prove that he was healthy, but also to continue the progress that he and his teammates made last year under head coach Marc Trestman's new offensive scheme.
"Last year when we were coming in with a new coach, we really had to learn each other and get that continuity with each other," he said. "Now it feels like second nature to us, and we just have to build off of last year and keep going."
One of the biggest reasons behind Mills' rookie season success in 2013 was the chemistry that he developed with fellow first-year lineman Kyle Long, who ended up being selected to the Pro Bowl after adapting quickly to the rigors of playing right guard. On the defensive side of the ball, Will Sutton and Ego Ferguson are looking to benefit from the same situation, and Mills recognizes the importance of sharing the ups and downs of being a rookie with someone who plays a similar position on the field.
"It's great to have that. Having Ego and Will together like Kyle and I were is very important," he said. "We were together for each other, and having a fellow rookie to go along through the process with you is essential to being successful."
That kind of chemistry always comes in handy against some of the talented pass rushers that the Bears have to face in a given season, and despite having his hands full with Lamarr Houston and Jared Allen in the first practice, Mills is confident that he will get back up to speed.
"We don't have pads on, so you really can't be as aggressive as you want to be," he said. "You do get that mental work in, as well as your technique and footwork the first two days, so that when you get the pads on you're ready for that physicality."
Fuller, Jennings Swap Positions Frequently in First Practice
When he was drafted, the assumption was that Kyle Fuller would be playing a lot of nickel cornerback in his first season with the Bears, and while that may still be case, Tim Jennings spent some time in the spot as well as the Bears worked through their formations.
In fact, the Bears went with the nickel a lot on Friday, with the offense frequently running three receiver sets with everyone from Marquess Wilson to Brandon Marshall lining up in the slot. Mel Tucker's new defense is going to have plenty of wrinkles to it, and with the three and four receiver sets that the Green Bay Packers and Detroit Lions (and frankly, the rest of the NFL) run, it's crucial to have several guys comfortable playing the nickel position.
The More Things Change….
Change is the name of the game for the Bears this season, and even though there are a slew of new faces to get acclimated to, the old guard was still on full display Friday morning.
On the offensive side of things, Alshon Jeffery picked up right where he left off last season, making several acrobatic catches along the sidelines and showing some strong hands despite being under constant duress from the Bears' corners and safeties.
On special teams, Robbie Gould was already in fine form, drilling several field goals from 40 to 50 yards out during the practice. Despite the breezy conditions, the kicker's rhythm was pitch perfect, and his kicks sailed through the air with little trouble.
Ferguson's Focus on Field, but Family Winning Off It Too
Despite the uncertainty over whether or not he will win a starting job with the team (he largely played with Sutton on the second team in the first practice of camp), there is one thing that the Ferguson family has won recently. The rookie's daughter Farrah recently won several awards at the Baby Miss Louisiana pageant, and even though it isn't necessarily his cup of tea, Ferguson appreciates the opportunity to spend time with his daughter.
"I'm not too big into the pageant stuff, but I just use it as a chance to be with my daughter. At the end of the day though, we're a family of winners though, so I really like that," he added with a laugh.
Odds and Ends
-Long wasn't a participant in practice on Friday afternoon, but he was on the field and did a bit of light work as he recovers from a viral infection that will keep him out of practice through the weekend.
-Given the first opportunity to grab the back-up quarterback job in camp, Jordan Palmer made several really nice throws on the first day of practice. One of his highlights came on a play where he rolled out to the right side of the formation, and he fired a perfect strike down the field to Chris Williams for a long gain.
-Sherrick McManis and Eric Weems got into a bit of a shoving match during the final session of practice, but were quickly separated by teammates.